Crews Clean Up Brush Fire in Riverside
The fire in Riverside was one of two SoCal brush fires that sparked on Sunday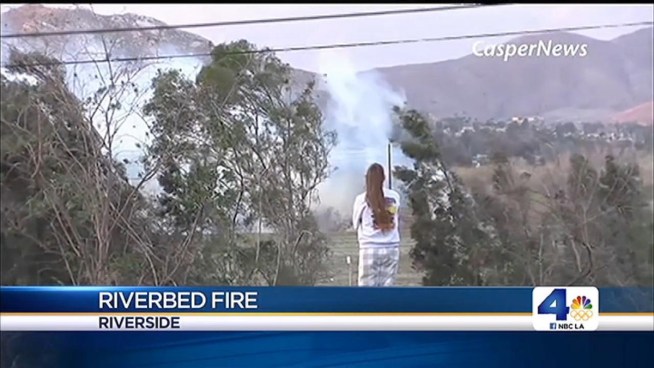 Two brush fires broke out Sunday as firefighters prepared for dry, windy conditions under red flag warnings. Crews were able to gain control over both fires thanks to winds dying down later in the day. Gadi Schwartz reports for the NBC4 News at 9 p.m. Sunday, Dec. 29, 2013.
Firefighters were mopping up the remaining hot spots of a brush fire in Riverside Sunday night, officials said.
The fire was reported about 4 p.m. in the Santa Ana River bed south of Mount Rubidoux, according to the Riverside Press-Enterprise.
Continuing Coverage: California Wildfires
The size of the fire was not immediately clear, but firefighters got the blaze down to about 4 acres by sundown. Crews were still mopping up hot spots as of 9 p.m.
Officials said the blaze started near a homeless camp, but it was not clear how it started.
The small brush fire was one of two that sparked Sunday, the other in Santa Clarita. That blaze was reported near San Francisquito Canyon Road and Lowridge Place and was contained within a couple of hours.
Small Plane Crash Injures 2 in Pacoima
The fires come amid red flag warnings prompted by extremely warm, dry and windy conditions.