Dodger Tickets Offered to Simi Valley Residents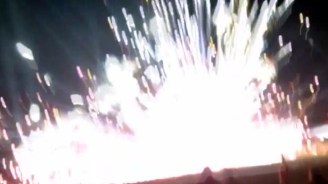 James Wilhite
This image from spectator James Wilhite shows a ground-level explosion at a Simi Valley fireworks show Thursday July 4, 2013.
The LA Dodgers offered a special "Simi Valley discount" for Friday's game against the Colorado Rockies for Simi Valley residents, family and friends as a gift for enduring a fireworks mishap on the Fourth of July.
The city of Simi Valley announced the offer on its website "out of respect" after at least 41 people were injured when malfunctioning fireworks exploded into the crowd at the town's annual Independence Day fireworks show.
To access the discount, game goers should purchase tickets through the attached Ticketmaster link, create a Dodgers account, and use the special password "Simi."
Access the offer here: Discounted Dodgers Tickets
Special pricing is:
Infield Box $50 (regular price $80)
Preferred field Box $26 (regular price $50)
Loge Box MVP $45 (regular price $65)
Infield Loge Box $35 (regular price $55)
Preferred Loge Box $20 (regular price $28)
Reserve MVP $18 (regular price $28)
Infield Reserve $11 (regular price $20)
Preferred Reserve $9 (regular price $16)
Left field pavilion $14 (regular price $17)
All you can eat right field pavilion $26-28 (regular price $30-34)
More Southern California Stories: