E. Sunset Blvd. Closed onto 405 for Bridge Construction
Closure of on-ramps from E. Sunset onto S. 405 will be closed beginning 7 p.m.
Saturday, Oct 1, 2011 | Updated 7:08 AM PDT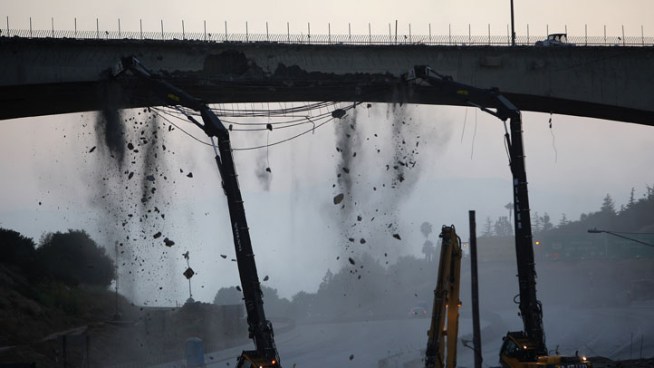 Getty Images
Workers demolish the south side of Mulholland overpass on the 405 freeway during the 53-hour total freeway closure resulting in massive traffic disruptions expected throughout the region on July 16, 2011 in Los Angeles, California.
Don't call it carmageddon. Don't even label it cartastrophe or carpocalyse.
Closing of on-ramps from Eastbound Sunset Boulevard onto the Southbound 405 Freeway Friday at 7 p.m. began the first stage of a two-phase project spanning 28 days.
The closure is part of the reconstruction of the south side of the bridge, which was demolished in July causing the 53-hour closure of the 405 Freeway known as "Carmageddon."
The phase one closurer of on-ramps will last from Friday, Sept. 30, and last through Oct. 14. Metro officials stated that drivers should expect delays getting on the San Diego Freeway.
During the closure, construction crews will raise the street intersections and utilities to meet the bridges new height.
Northbound 405 ramps and Westbound Sunset to the 405 South will stay open during the first phase.
The second phase of the October construction will take place from Oct. 14 through Oct. 29. During that period there will be continuous closure of north Church Lane between Sunset Boulevard and the Southbound 405 ramps and Westbound Sepulveda Way to Westbound Sunset Boulevard between Sepulveda Boulevard and Sunset Boulevard. There will also be weekday closure of the Southbound Sunset Boulevard off-ramp will be from 6 a.m. to 10 a.m..
Area under construction from Sept. 30 through Oct. 14: