Monday, Oct 29, 2012 | Updated 4:44 PM PDT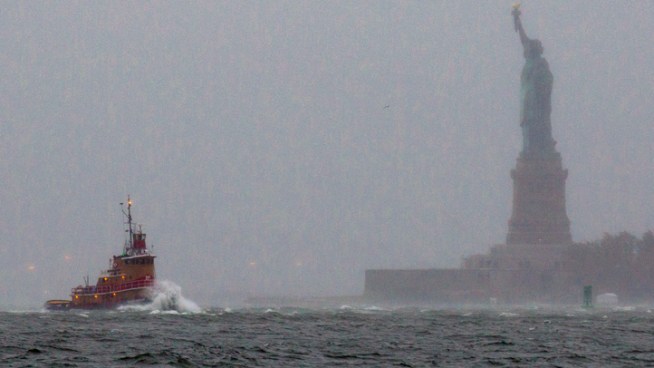 AP
Waves crash over the bow of a tug boat as it passes near the Statue of Liberty in New York Monday, Oct. 29, 2012 as rough water as the result of Hurricane Sandy churned the waters of New York Harbor. Hurricane Sandy continued on its path Monday, forcing the shutdown of mass transit, schools and financial markets, sending coastal residents fleeing, and threatening a dangerous mix of high winds and soaking rain.� (AP Photo/Craig Ruttle)
As Sandy continues to batter the East Coast, we at NBC4 and NBC News are stepping up our efforts to bring you as much information as possible – over as many platforms as we can.
In addition to our local news programming from 5 p.m. to 6:30 p.m., we will be showing an extended edition of the "NBC Nightly News with Brian Williams" from 6:30 p.m. to 7:30 p.m.
"Extra," which will include a short appearance by NBC4's Fritz Coleman to discuss the storm, will air from 7:30 p.m. to 8:00 p.m.
All of our programs will be live-streamed on our NBC4 website, NBCLA.com, and on mobile devices.
We are also planning to livestream ongoing coverage of the storm from NBC News and NBC television stations in the storm's path.You will be able to find those streams online here, as well as through our mobile app.
You can download the app here.
Our webpage, NBCLA.com, will showcase written stories and video about the storm, and we are also planning to update storm conditions on Twitter at @NBCLA and @NBCNews, Facebook and Instagram.