Pursuit Leaves 4 Dead After Fiery Collision in Compton
A car being pursued by authorities ran a red light, struck an oncoming car, flipped over, and caught fire, officials said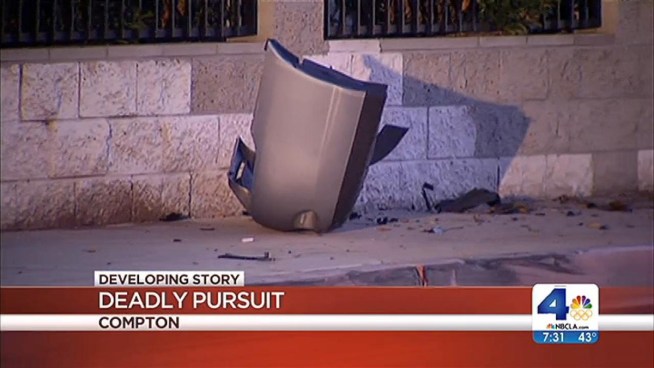 A violent crash in Compton killed a total of four people Saturday morning, including three people in one car who led police on a pursuit. Authorities stopped a vehicle after reports of shots fired, but the driver fled, eventually running a red light and striking and killing another person, officials said. The three people in the pursued vehicle were all pronounced dead at the scene. Reggie Kumar reports from Compton for Today in LA Weekend on Saturday, Dec. 14, 2013.
A short pursuit ended with four people dead in a two-car collision following reports of shots fired in Compton early Saturday, officials said.
Authorities responded to a call about shots fired from a vehicle.
The caller gave a good description of the suspects and the sheriff's department found the car and began pursuing it on Indigo Boulevard in Compton, officials said.
READ: Driver killed in Downtown LA after hour-long police pursuit
After a five-minute pursuit, the driver ran a red light and struck an oncoming vehicle at South Wilmington Avenue and West Greenleaf Boulevard. The pursued car flipped over on the lawn of a nearby home and caught on fire, officials said.
There were three people in the overturned vehicle, and all three died at the scene.
MORE: Infamous SoCal Police Chases
The female driver of the other car, in her early 20s, also died in the crash when her vehicle struck a power pole, officials said.
The victims have not yet been identified.