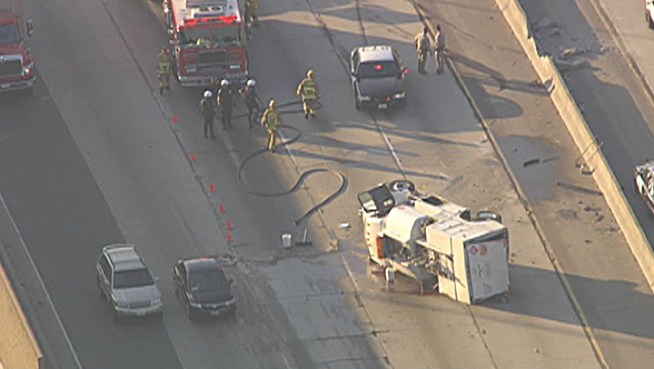 A truck overturned and spilled fuel onto the northbound lanes of the Golden State Freeway, jamming traffic on the morning commute on Monday, Aug. 20, 2012.
The Golden State Freeway near Scott Road in Burbank was reopened Monday afternoon, after a fuel spill blocked several northbound lanes and creating a Monday morning commuter headache.
The northbound lanes of the 5 Freeway were shut down for hours after a truck crashed into the center divider, flipped on its side and spilled about 1,000 gallons of diesel fuel onto the highway, the CHP said.
Traffic was jammed for about 3 miles, from the Scott Road ramp to the Ventura Freeway as crews mopped up the spill.
The crash was reported just before 7 a.m., according to the California Highway Patrol.

View Scott Rd in a larger map
Follow NBCLA for the latest LA news, events and entertainment: iPhone/iPad App | Facebook | Twitter | Google+ | Instagram | RSS | Text Alerts | Email Alerts