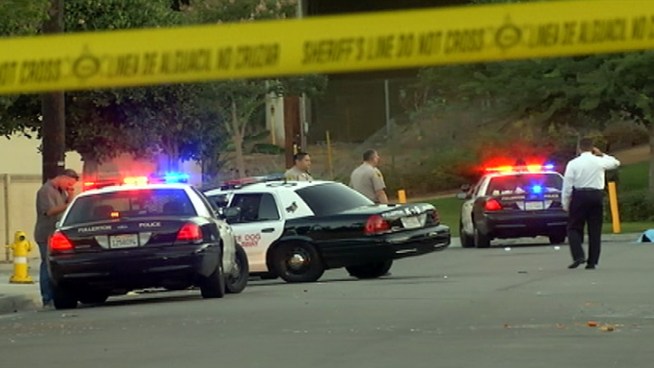 Neighbors describe gunfire, then silence after police shot and killed a driver at the end of a pursuit in Bellflower. Toni Guinyard reports for the NBC4 News at noon on Aug. 28, 2012 from Bellflower.
Police shot and killed a driver who attempted to "run over several officers" at the end of pursuit that began in Fullerton early Tuesday and ended in a Bellflower cul-de-sac.
The pursuit began after Fullerton officers noticed a man in a sport utility vehicle "driving erratically" at Raymond Avenue and Orangethorpe Avenue near the 91 and 5 freeways, according to Los Angeles County Sheriff's Department officials conducting the investigation. The driver continued on Palo Verde Avenue and led police into a cul-de-sac near the 91 Freeway and Artesia Boulevard.
When the vehicle stopped, officers exited their vehicles and the man attempted to "run over several officers," said LA County Sheriff's Lt. David Coleman.
The Fullerton officers opened fire as the subject drove toward toward police, Coleman said. Five officers -- two from the Fullerton Police Department and three from the La Palma Police Department -- were at the scene of the shooting, Coleman said. La Palma is southeast of Bellflower.
"The accounts we have are that he was backing up at a high rate of speed toward the officers," said Coleman.
The subject was pronounced dead at the scene.
Residents told NBC4 they heard several gunshots.
"All of a sudden, we heard 'bam, bam, bam' -- it really did sound like somebody was banging on the house or the window or the door," said resident Sharon Parker.
No officers were injured.
Follow NBCLA for the latest LA news, events and entertainment: iPhone/iPad App | Facebook | Twitter | Google+ | Instagram | RSS | Text Alerts | Email Alerts