Girl, 6, Fatally Shot; Father Wounded in Moreno Valley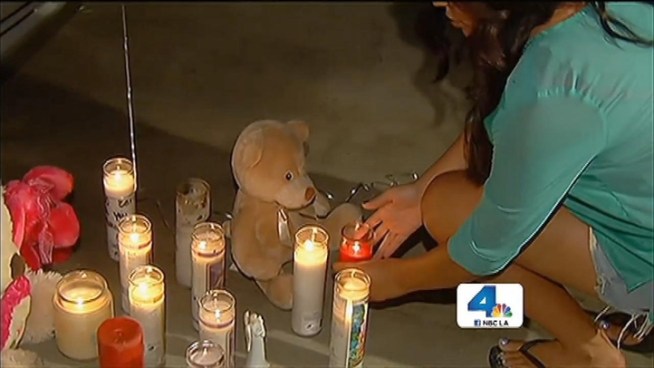 A 6-year-old girl died just after midnight on Sunday after being shot in front of a relative's Moreno Valley home. Authorities were looking for suspects in the shooting, which also wounded the girl's father. Kate Larsen reports for NBC4 News at 11 p.m. on Sunday, Sept. 8, 2013.
Authorities have identified a 6-year-old girl who died early Sunday after being shot at a Moreno Valley home.
Tiana Ricks of Victorville died just after midnight on Sunday, about 2 1/2 hours after being shot in the 25000 block of Harker Lane in Moreno Valley, according to the Riverside County Sheriff-Coroner.
Her father was also wounded in the attack, relatives told NBC4. The 26-year-old man, whose name was not released, was hospitalized in stable condition, sheriff's officials said.
Relative LeShawn Cook said Tiana was holding her father's leg when men approached and opened fire.
Tiana apparently didn't realize she had been shot. The little girl kept asking if her father was OK, Cook said.
Sheriff's officials would not confirm that the wounded man was the girl's father.
Deputies urged anyone with information about the apparent homicide to call the sheriff's homicide unit at 951-955-2777 or the sheriff's Moreno Valley station at 951-486-6700.
City News Service contributed to this report.
More Southern California Stories: