LA Church Ready If Supreme Court Strikes Ban on Same-Sex Marriage
With the Supreme Court considering Prop 8, a church in LA says it is ready for modern change.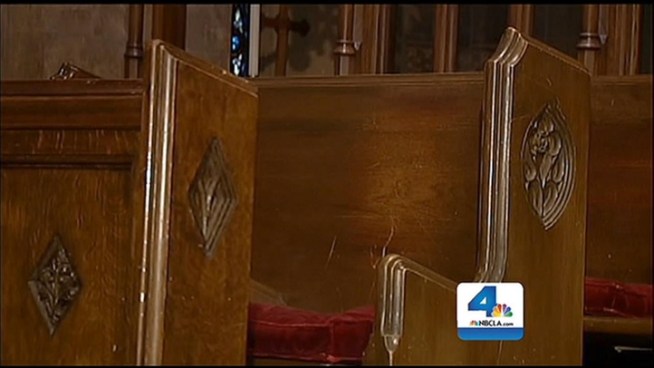 Los Angeles' First Congregational Church will host same-sex wedding ceremonies if the Supreme Court strikes down California's ban on gay marriage. Church staff is already training to perform the ceremonies before the justices make their decision. Beverly White reports for the NBC4 News at 11 p.m. on March 26, 2013.
The church that calls itself LA's oldest, continually operating Protestant congregation, is ready for a modern change.
Staff at First Congregational is now trained to offer same-sex weddings "as soon as the law allows."
"Our director of weddings, she actually has taken a course to raise her sensitivity to work with gay and lesbian couples, as well as straight couples," senior minister R. Scott Colglazier said.
That means pre-and post-marital counseling and even help with the wedding vows.
It's the kind of marriage equality that activists in Long Beach want the U.S. Supreme Court to endorse.
"To see churches reaching out to their openly gay and lesbian congregants and performing marriages is just a natural progression to me," said Jane Wishon, with Marriage Equality USA.
Supreme Court justices heard oral arguments Tuesday for and against California's Proposition 8, a voter-approved ban on same-sex marriage. And while decision from the Supreme Court is still months away, but Colglazier said same-sex couples he knows are ready right now.
"We want to be with them," he said. "We want to support them. We're really ready to do that. I think it'll be a good day for America, a good day for our church and those couples who come our way."