Officers' Instinct Tracks Down Missing LA Toddler
It was 29 degrees when two University of Kentucky officers noticed a woman pushing a stroller with a toddler, whose arms and legs were bare.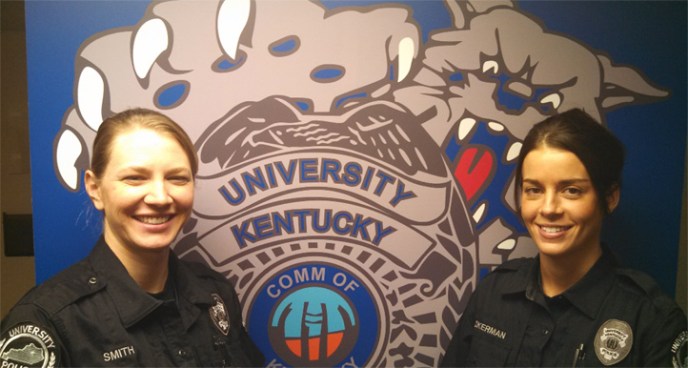 University of Kentucky
University of Kentucky police officers Jennifer Ockerman, right, and Emily Smith followed what their chief called a "gut feeling" when they noticed a toddler improperly dressed for a frigid winter night. That little girl, they later learned, had been reported abducted from Los Angeles two months earlier.
When officers saw a toddler wearing nothing but a short-sleeved onesie as she was being pushed in a stroller on a windy, frigid night in Kentucky, they had a "gut feeling" that something was wrong, according to the University of Kentucky Police Chief Joe Monroe.
That hunch led to the discovery of a 17-month-old girl who was reported abducted from Los Angeles, possibly by a family member, on Oct. 15.
A woman who police believe is the girl's grandmother was taking the toddler – without shoes, gloves, a hat or anything to protect her face – on a stroll through the University of Kentucky campus Thursday night, when the temperature had dropped to 29 degrees and the wind was blowing about 5 mph, Monroe told NBCLA.
Campus police officers Jennifer Ockerman and Emily Smith spotted Maria Baltierra-Dejesus, 62, pushing Alouette Day-Moreno-Baltierra (pictured below) in a stroller through a campus parking lot.
"This is an example of where the responding officers followed a gut feeling that something just wasn't right with the situation," Monroe said in a press release.
A resident of New York, Baltierra-Dejesus was booked on suspicion of endangering the welfare of a minor and custodial interference. She was receiving medical treatment Friday night, though Monroe could not divulge why.
Monroe said it was not clear where the girl's parents are, and that she apparently belonged to the State of California.
For now, Alouette is in custody of the Kentucky Child Protective Services, which is working with LAPD and the FBI to return her to California, Monroe said.