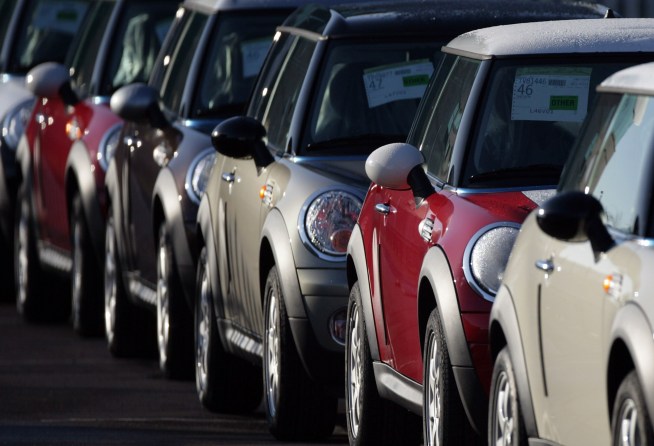 Getty Images
OXFORD, UNITED KINGDOM - DECEMBER 07: Frost thaws on newly built Mini cars outside the Mini Plant Oxford as a skeleton staff prepare the factory for a extended closure on December 7 2008 in Oxford, England. Mini owner, carmaker BMW, has announced a extended Christmas factory closure at the two plants which make the car in Oxford and Swindon after worldwide demand for the car dramatically slumped. (Photo by Matt Cardy/Getty Images)
Need a car for an hour or two? Even a couple days? No problem, just borrow one.
If you're near UCLA or USC, it's now much easier to do just that.
Earlier today Mayor Villaraigosa announced a partnership between city officials, Zipcar, UCLA and USC, which expands car-sharing in LA and provides residents with an easy, inexpensive and green way to get around town.
Starting today Zipcar, the world's largest car-sharing service, added 12 new cars in reserved parking spots near the two local campuses. How it works is simple: Zipcar members can reserve these cars on an hourly or daily basis, with gas, insurance, free miles and roadside assistance all included. Prices are $8-9 per hour, or $66-72 per day.
If you're over 21 and your driving record's clean, you can become a member, too. Just visit zipcar.com/LA.
There is a $50 annual membership fee and a one-time $25 fee to apply. A single car registration could be more than that.
It's hard to a see a downside to such a partnership, especially in the vast parking lot that is LA. In the press release Villaraigosa states "providing alternatives to car ownership will help improve the environment and the city's traffic congestion." Trasportation Committee chair Councilman Bill Rosendahl, speaking to the LA Times, agrees, saying "This is an environmental home run. It's a no-brainer."
City officials hope to expand the program to the rest of the area.