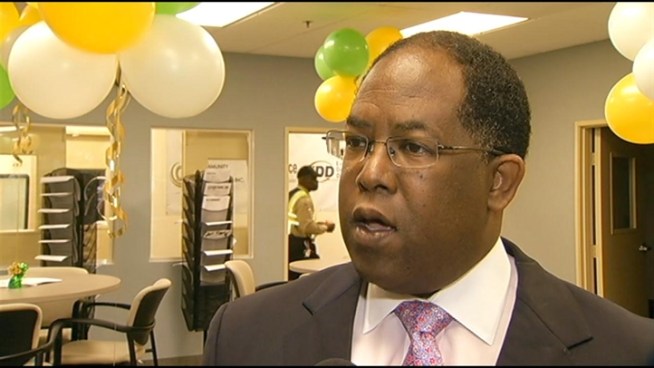 Jennifer Bjorklund reports on the grand opening of the Compton Work-Source Center, which has already helped some people land jobs.
He's got a great job with benefits now, but it was just a few months ago, 23-year-old Johnny Johnson was out of work and had few prospects.
Six months of unemployment got him down.
Although he had experience driving school buses and charters, he couldn't jump that last hurdle to get into LA's Metropolitan Transit Authority, until he came to the new Compton WorkSource Center.

"I'm smiling I'm happy," Johnson said.

He's one of many success stories celebrated here already, even though the official ribbon cutting for the center is just Thursday.

The center is dedicated to finding jobs for people in South LA and Compton, because while unemployment is around 12-13 percent in Los Angeles County, the numbers in Compton and surrounding neighborhoods are closer to 19-21 percent.

"So we have an obligation, it seems to me, to focus the need is the greatest. Opportunity where unemployment is the highest," said LA County Supervisor Mark Ridley-Thomas.

Matching training with available jobs, and most important, giving applicants confidence is what made the difference for Eric Cargile, who landed a job in security.

Johnson agrees. He is now an MTA bus driver.

"You know when you're having an interview, look at the person and not to the side, you know, because you know you're nervous, everyone's nervous. So they just gave me the confidence I needed, and I went in there and nailed it," he said.