One Dead, One Wounded After Koreatown Cyclist Shootings
The incident occured in the middle of the day Saturday in Koreatown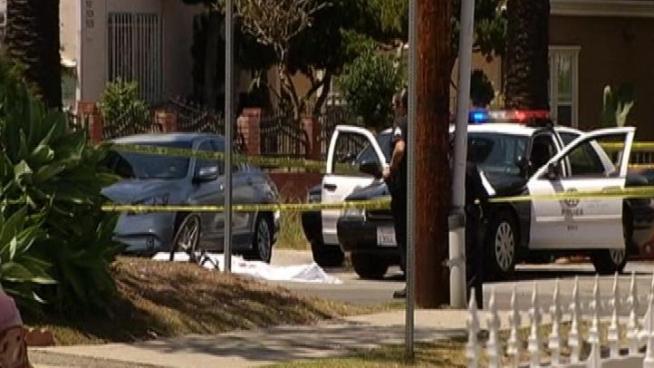 Janet Kwak, Edwin Calderon
Police are searching for a white SUV that was involved in the shootings of two cyclists just blocks apart in Koreatown Saturday afternoon. A passenger in the vehicle shot two cyclists, killing one of them. Janet Kwak reports from Koreatown for the NBC4 News at 6 p.m. on May 26, 2012.
One cyclist is dead and another injured after a gunman in a white SUV pursued each of them in a mid-day incidents in Koreatown Saturday, police said.
The sport-utility vehicle with three suspects was chasing the cyclists when some kind of altercation occured and one of the cyclists was hit and knocked to the ground, Los Angeles Police Department Sgt. Rudy Lopez said.
A passenger then got out of the vehicle and shot and fired multiple rounds, killing a cyclist in the the 900 block of New Hampshire Avenue in Koreatown (map). The incident occurred about 1:20 p.m
The suspect returned to the vehicle, which then began pursuing the second male cyclist, who was shot in the 800 block of South Vermont Avenue (map), less than a quarter-mile from the first shooting, Lopez said.
"The suspects reentered that SUV and they fled the area," Lopez said. "We're looking for them right now, but we don't have many leads to go on at this time."
The age of the victims was unknown. They were both Latino males, according to LAPD.
Police have little information at this time, Lopez said. It was unclear if the incident was gang-related, and the two cyclists may have been riding separately.
The SUV was last seen driving south on Vermont Avenue toward Olympic Boulevard.
The second cyclist is in a local hospital in stable condition, LAPD officials said.
Follow NBCLA for the latest LA news, events and entertainment: iPhone/iPad App | Facebook | Twitter | Google+ | Instagram | RSS | Text Alerts | Email Alerts