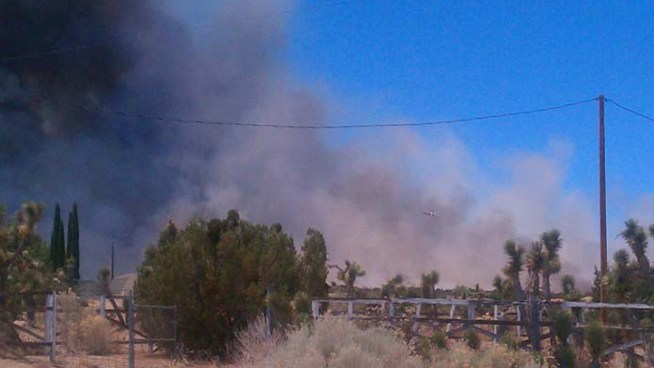 Jeff Dyer
A brush fire broke out along the Los Angeles-San Bernardino county line on Saturday, June 30, 2012.
Firefighters worked on Sunday to mop up remnants of a nearly 100-acre blaze along the San Bernardino-Los Angeles county line.
Some 250 firefighters worked in nearly 90-degree heat with winds at 15 mph in tall grass and scrubby trees to put out embers of a fire that broke out Saturday before noon.

The so-called Oasis fire -- named for the road it started near -- charred land in the northern San Gabriel Mountain foothills, west of Phelan.
Some 250 firefighters from four agencies worked to contain the fire Saturday, helped by water-dropping helicopters and planes.
The biggest the fire got was 96 acres by 7 p.m. Saturday.
Officials shut down Highway 138 as a precaution.
A few homes were evacuated but there were no structures damaged.
Follow NBCLA for the latest LA news, events and entertainment: iPhone/iPad App | Facebook | Twitter | Google+ | Instagram | RSS | Text Alerts | Email Alerts