Fatal Hit-and-Run Suspect Arrested After Pursuit
Two pedestrians were hit, and the driver was taken to a hospital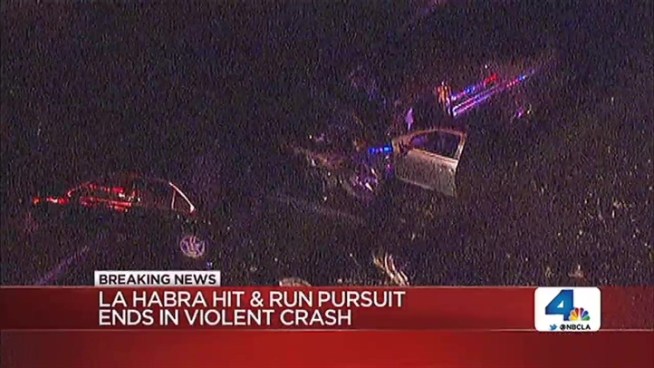 Robert Kovacik, Sue Monroe
Two women were struck by a hit-and-run driver and one of them was killed. A witness called police to alert them to the fleeing motorist, who was soon caught after a solo-car crash. Robert Kovacik reports from La Habra for the NBC4 News at 11 p.m. on Oct. 25, 2013.
A hit-and-run driver was arrested Friday he allegedly fatally struck two women, killing one, before leading police on a brief chase that ended in a crash, officials said.
The driver hit the pair of pedestrians about 9 p.m. near Whittier Boulevard and Rigsby Street in La Habra, Los Angeles County Fire Department officials said.
After hitting the pedestrians, the driver was chased by police for three minutes before he crashed near Colima Road and Countrywood Avenue in Hacienda Heights.
Both victims were women in their mid 30s, police said. One of the women was carrying a six-pack of beer across the street when she was struck, authorities said.
One of the women died at the scene. The other was taken to a hospital. Her condition was not known by press time.
A passerby called police to alert them of the fleeing driver, and officers tracked down the hit-and-run motorist.
NBC4's Robert Kovacik contributed to this report.
More Southern California Stories: