As the Powerball jackpot grows to an estimated $600 million before Saturday night's drawing, Southern Californians are talking about the dream of owning the sole winning ticket.
The drawing is at 7:59 p.m. PT, and the cut-off time to buy a ticket is 7 p.m. Drawings are held every Wednesday and Saturday, according to the California Lottery.
California joined the Powerball club in December so Southern Californians can now find tickets wherever Super Lotto or Mega Million tickets are sold.
For those wondering how to get in on the buzz, California Lottery officials list their lucky retailers.
The list includes 33 area convenience stores stretching from Ventura through Los Angeles to Riverside and San Bernardino counties that have a history of selling winning tickets.
Scroll down to the bottom of this story for the complete list of winning lottery stores in the area.
As for this week's Powerball jackpot, lottery officials say the prize is growing quickly because so many people have been purchasing the $2 tickets.
The jackpot has grown by an estimated $236 million since Wednesday's drawing.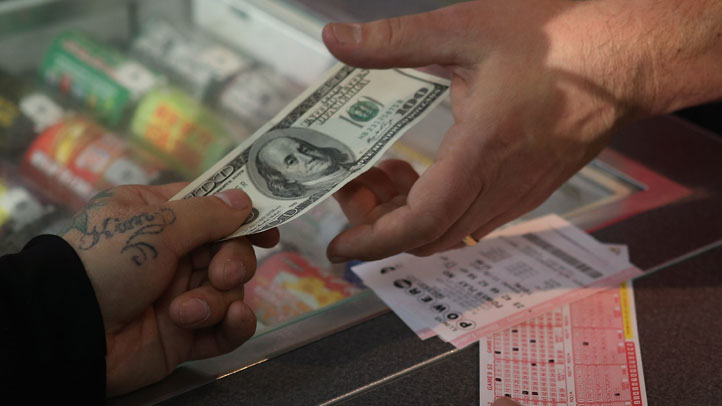 The last jackpot was won on March 30, so it's been growing for about six weeks. The next drawing is Saturday night.
The largest jackpot ever was a $656 million Mega Millions prize won in March 2012. The prize was split three ways with winners in Illinois, Kansas and Maryland.
Odds of winning the Powerball jackpot are about 1 in 175 million.

Los Angeles County
MR C'S LIQUOR
1925 S PACIFIC AV
SAN PEDRO, CA90731
TOWN AND COUNTRY NEWSTAND
6330 W THIRD ST
LOS ANGELES, CA90036
MIKE'S BEVERAGE SHOP
42263 50TH ST W #101
QUARTZ HILL, CA93536
7-ELEVEN 2173-24171B
2512 S FIGUEROA ST
LOS ANGELES, CA90007
DEL GAUDIO'S MARKET
10567 SAN FERNANDO RD
PACOIMA, CA91331
LIQUORLAND
928 E COVINA BL
COVINA, CA91724
7-ELEVEN 2175-13993D
530 N DIAMOND BAR BL
DIAMOND BAR, CA91765
ALCON LIQUOR
21315 SATICOY ST
CANOGA PARK, CA91304
7-ELEVEN 2175-18394B
2150 S FREMONT AV
ALHAMBRA, CA91803
SMOKE N' STUFF
750 W 7TH ST
LOS ANGELES, CA90017
LIQUOR BOX
1445 LINCOLN AV
PASADENA, CA91103
VALENCIA LIQUOR STORE
22925 LYONS AV
SANTA CLARITA, CA91321
WASHINGTON MARKET
5390 W WASHINGTON BL
LOS ANGELES, CA90016
7-ELEVEN 2133-15127
2873 E AVENUE R
PALMDALE, CA93550
7-ELEVEN 2176-23050C
13701 HAWTHORNE BL
HAWTHORNE, CA90250
7-ELEVEN 2176-24207A
5870 E DEL AMO BL
LAKEWOOD, CA90713
7-ELEVEN 2136-13889G
15601 NORDHOFF ST
SEPULVEDA, CA91343
7-ELEVEN 2136-16278C
6625 LANKERSHIM BL
NORTH HOLLYWOOD, CA91606
SAN DIMAS LIQUOR
1427 W ARROW HWY
SAN DIMAS, CA91773
Orange County
7-ELEVEN 2174-26109
4320 KATELLA AV
LOS ALAMITOS, CA90720
7-ELEVEN 2174-26109
4320 KATELLA AV
LOS ALAMITOS, CA90720
CLUB HOUSE LIQUOR #2
628 CAMINO DE LOS MARES
SAN CLEMENTE, CA92673
7-ELEVEN 2172-19969
290 S MAIN ST
ORANGE, CA92868
7-ELEVEN 2174-15194
3259 ASSOCIATED RD
FULLERTON, CA92835
HANSHAW LIQUOR #1
10971 WESTMINSTER AVE
GARDEN GROVE, CA92843
AL'S MARKET
15456 BROOKHURST ST
WESTMINSTER, CA92683
BAYCREST LIQUOR
333 E 17TH ST
COSTA MESA, CA92627
PHIL'S MOBIL
1465 S MAIN ST
SANTA ANA, CA92707
Riverside County
7-ELEVEN 2112-16690
1798 N SUNRISE WAY
PALM SPRINGS, CA92262
STEWART'S LIQUOR
5505 VAN BUREN BLVD
RIVERSIDE, CA92504
San Bernardino County
SAV A MINIT MARKET
17690 ARROW HWY
FONTANA, CA92335
R & R LIQUOR
871 N RANCHO AVE
COLTON, CA92324
Ventura County
7-ELEVEN 2133-17957C
2201 E CHANNEL ISLAND BL
OXNARD, CA93033