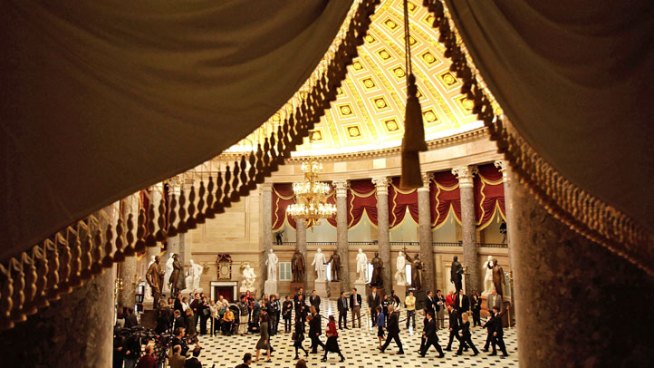 Chip Somodevilla/Getty Images
The nation's first-ever member of the Electoral College to still be in high school was appointed by a California candidate for Congress. Here, in January 2009, members of the U.S. Senate escort the Electoral College ballots through U.S. Captiol to tally votes in the 2008 presidential election.
A Simi Valley teen has been named as the nation's first-ever high-schooler to be a member of the Electoral College.
Chris Tumbeiro, a senior at Royal High School in Simi Valley, was selected to cast his vote as one of California's 55 electors in the 538-member Electoral College.
A registered Democrat, Tumbeiro was selected for the position by Dr. Lee Rogers, who is running against Republican Rep. Buck McKeon to represent Simi Valley, Santa Clarita and the Antelope Valley.
Rogers announced the unusual appointment – which typically goes to longtime party members – at a press conference Friday. He has the power to appoint an elector because he won the primary in the 25th Congressional District.
Rogers said Tumbeiro was highly recommended by his AP Civics teacher.
"I wanted to choose someone different than the typical political appointee and I thought giving a student this opportunity would be a great learning experience for him and his whole class," Rogers said.
Tumbeiro will meet with other California members of the Electoral College Dec. 17 to cast their votes in favor of the presidential candidate who wins the state's popular vote. That is all but certain to be President Barack Obama, polling shows.
The appointment was first reported Friday evening by the Ventura County Star.
He told the newspaper that he learned about his appointment about a month ago.
"I was shocked," Tumbeiro said. "I had a lot of different emotions. Now I'm just excited. I am honored to be a part of this for my country."
Tumbeiro is not the first 18-year-old to be a member of the Electoral College, but he is the first to still be a high schooler during his appointment, Rogers said.