Southand Residents Raise Money for Relatives in Philippines
Officials say the death toll could reach 10,000.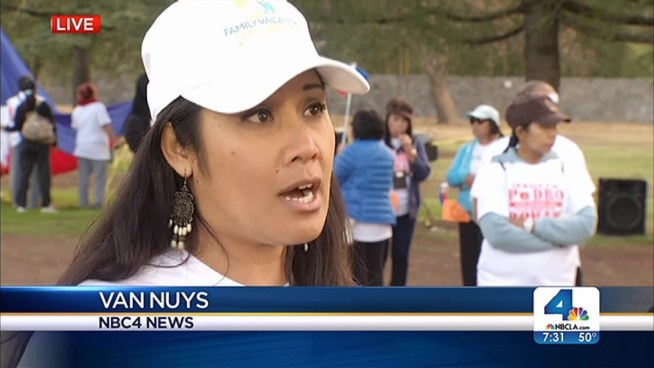 The founder of a charity that is helping the victims of Typhoon Haiyan in the Philippines says she's unable to get in contact with her own family who live in the island country. The last time she spoke with her relatives, their home was underwater, she said. Reggie Kumar reports from Van Nuys for Today in LA on Sunday, Nov. 10, 2013.
As Typhoon Haiyan continues on its destructive path, concerned Southland residents with relatives in the Philippines are doing their best to help.
ROMAH, an organization dedicated to helping during disasters, is raising money for relief efforts with a charity 5k run Sunday.
As many as 10,000 people are believed dead in one Philippine city alone.
Because of the blackout caused by the typhoon, it is impossible to know exactly how much damage it has caused or whether relatives are safe.
ROMAH founder Ruth Ann Stewart said she lost communication with her own family.
"There's no communications with them," Stewart said. "I can't reach them by phone or Internet. The last time I heard from them, they were under water."
Stewart plans to take deliver supplies to the Philippines personally during a Nov. 19 mission trip.
More Southern California Stories: