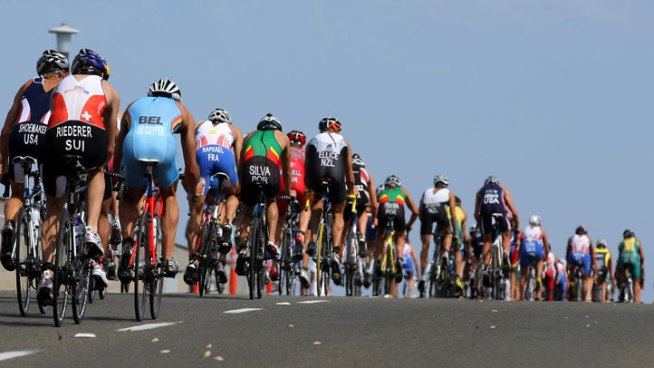 Donald Miralle/Getty Images
The cycling portion of a triathlon is expected Sunday to shut down portions of Venice and Olympics boulevards and Fairfax Avenue. Traffic will not be allowed to cross the roadways. Shown here: the May 12, 2012 ITU World Triathlon San Diego Elite Men's Race on May 12, 2012 in San Diego.
A smooth start to Carmageddon II traffic could turn into a bumpy ride Sunday when a triathlon shuts down north-south streets between downtown and the Pacific Ocean.
The previously scheduled Herbalife Triathlon Los Angeles is going ahead on pace Sunday, despite the 10-mile shutdown of the San Diego (405) Freeway.
About 2,800 people are expected to participate in the triathlon, which has a bicycling portion stretching from Venice to downtown Los Angeles.
Starting at about 7 a.m., traffic will be prohibited from crossing Venice Boulevard starting on the westernmost end, where the swimming portion is set to take place at Venice Beach, and proceeding east to Fairfax Avenue.
Busy Fairfax itself will be closed from Venice to Olympic Boulevard, which will in turn be closed all the way to downtown.
Roads will reopen starting at 11 a.m. on the western end, and moving east.
The triathlon's running portion takes place all in downtown LA, mostly along Grand Avenue. A map of the course route is available here (PDF).
Carmageddon II: Complete Coverage


View Herbalife Triathlon route in a larger map