Ladera Ranch Park Attack Leaves Boys "Extremely Horrified"
A man threatened two 12-year-old boys with a knife as they played, police say.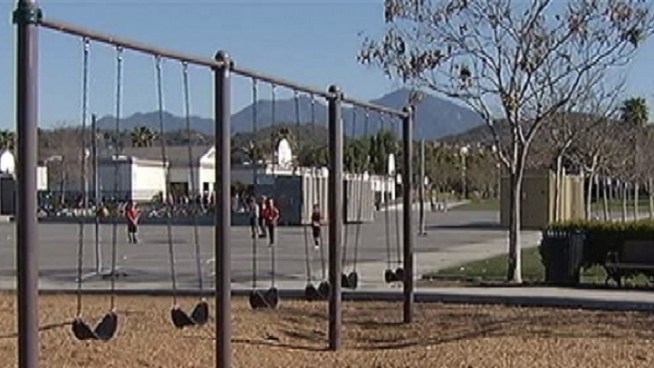 Tena Ezzeddine
A man who attacked two boys at knifepoint managed to escape after dragging one of the boys and forcing him to take off his pants and underwear. Police are now looking for any possible connection between this case and the recent kidnapping attempts in Whittier. Tena Ezzeddine reports from Ladera Ranch for the NBC4 News at 5 p.m. on March 11, 2013.
Two boys escaped an attack at a Ladera Ranch park where an assailant wearing a bandana held them at knifepoint and attempted to molest them, authorities said on Monday.
The two 12-year-old boys were playing on the swing set at Founders Park Sunday evening when the man approached them and brandished a 4-inch blade, police said.
One boy ran while the assailant dragged the other several feet and ordered him to remove his pants and underwear, officials said.
"It's very sad and I can't even imagine how it was," said Amelia Konovalenko, a resident who lives nearby. "How scary for them."
The boy threw a handful of woodchips from the park's play area in the man's face and ran a block away in his t-shirt and underwear, said Jim Amormino, spokesman for the Orange County Sheriff's Department.
The boy then flagged down a car for help.
"Both boys were extremely horrified," Amormino said.
The boy was not sexually assaulted, police said.
The attacker is still at large, and investigators on Monday went door-to-door in search of the man. Officials said the boy's description of his aggressor was vague -- a man in his late 20s or early 30s who was wearing a bandana over his face at the time of the attack.
The Orange County Sheriff's Department is reviewing registered sex offenders near the park, located near Avendale Boulevard and Daisy Street.