Fatal Crash Follows Hit-and-Run in Valley Village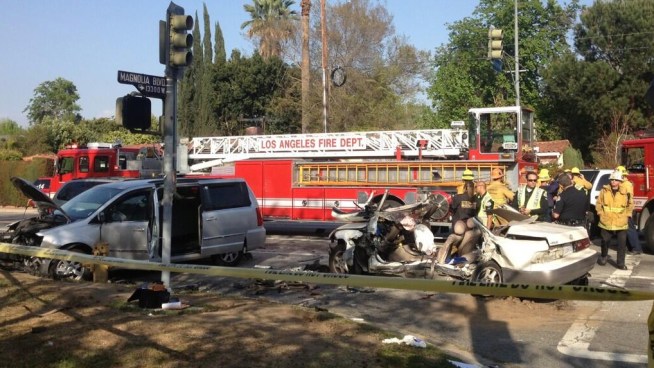 Kim Baldonado
The driver of a white Lexus, at right, died after getting into a multicar crash with the driver of a town car who police said was fleeing the scene of a hit-and-run when the fatal collision happened. Kim Baldonado reports from Valley Village for the NBC4 News at 5 p.m. on March 27, 2013.
While fleeing the scene of a collision, a town car driver crashed into two vehicles in a Valley Village intersection, killing one of the drivers, authorities said.
The crash happened about 1:30 p.m. Thursday near West Magnolia Boulevard and Fulton Avenue.
Before the fatal multi-car crash, the town car driver rear-ended a car and drove away. Police said the driver ran a red light and slammed into the door of a Lexus and also crashed into a minivan.
The Lexus driver was pronounced dead at the scene, police said.
The town car driver ws taken to the hospital with minor injuries and has been booked.