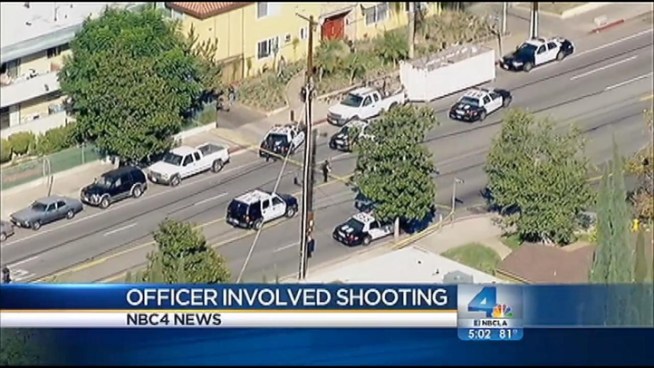 Whit Johnson
A man initially believed to be armed with ax or knife was talking to police when a second person confronted officers with a gun. That second person was fatally shot by officers in the second deadly police shooting in Van Nuys in less than 24 hours. Whit Johnson reports from Van Nuys for the NBC4 News at 5 p.m. on Oct. 18, 2012.
More details are being released about a deadly officer-involved shooting in Van Nuys on Thursday afternoon.
Police initially said a man armed with an ax and knife was fatally shot after a confrontation with officers. By late afternoon, the story had changed.
Police did respond to reports of an ax-wielding man in the 13800 block of Oxnard Street around 1:30 p.m. While talking to that man, another man showed up.
The second man, who was armed with a gun, was fatally shot by police.
"We are still investigating and trying to determine what occurred to bring this individual to confront the officers. That is still a mystery and our detectives are working on that right now," said LAPD Capt. Ivan Minsal.
The relationship between the two men is unclear, and the investigation is ongoing, police said.
Police also said that the man initially believed to be armed with a knife or ax did not possess a weapon, and he is cooperating with the investigation.