Washington Collapse Raises Questions About California's Bridge Safety
Many bridges in California were retrofitted after major earthquakes, but some of the state's aging bridges have not been improved.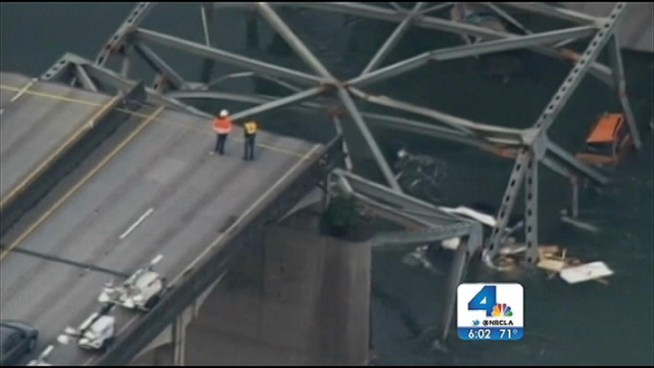 Michelle Valles, Edwin Calderon
The bridge that collapsed in Washington state is similar to a number of California bridges. But authorities say bridges in Southern California are built better than in other parts of the country, namely because the region is so prone to earthquakes. Michelle Valles reports from Burbank for the NBC4 News at 6 p.m. on May 24, 2013.
An Interstate 5 bridge in Washington state that collapsed Thursday afternoon has raised questions about California's thousands of "deficient" bridges.
California ranks 18th in the nation when it comes to deficient bridges, with more than 300 in Los Angeles County alone. CalTrans officials argue that "deficient" doesn't necessarily mean unsafe - some of the bridges could merely be lacking in paint or maintenance.
CalTrans inspects bridges every two years.
Major earthquakes, including the Northridge earthquake in 1994, prompted officials to retrofit structures including bridges. Newer bridges have since been built to better withstand earthquakes.
"Bridges in California actually have gone through the retrofit, and gone through also (an improvement) of the seismic design criteria," said UCLA engineering Professor Jian Zhang, a leading bridge expert. "So therefore it's actually, I think, in general, OK."
However, the average age of California's bridges is 44 years and not all of the state's bridges have been retrofitted, thanks in part to budgetary issues.