Lanes Reopen After 9-Car Crash 170 Freeway in Van Nuys
Refresh this page for updates.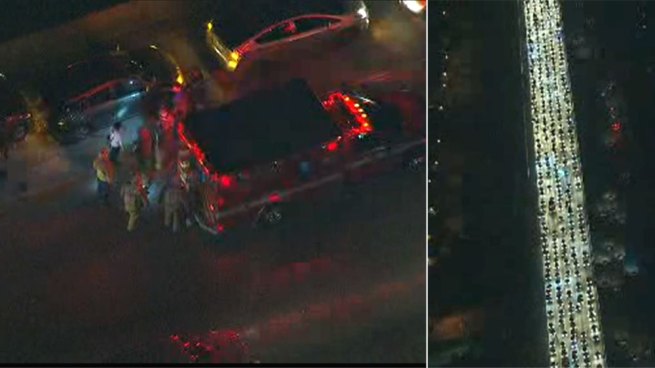 Traffic backed up on the 170 Freeway after a nine-car crash near Sherman Way in Van Nuys on Saturday, Feb. 15, 2014.
A nine-car crash on the Hollywood (170) Freeway snarled traffic in Van Nuys Saturday night, causing another major backup in addition to the San Diego (405) Freeway's "Jamzilla."
The crash was reported about 6:34 p.m. on the southbound side near Sherman Way, CHP officials said. Aerial video showed traffic slowing for miles as officials examined the wreckage.
At least one person could be seen being put into an ambulance on a stretcher. Two people were transported to the hospital, CHP officials said.
All lanes on the 170 Freeway reopened about 8 p.m.
The crash came on the second day of "Jamzilla," an 80-hour shutdown for crews to pave a 6-mile stretch of the 405 Freeway.