2 Gunmen Sought in Fatal Koreatown Shooting
Two men, 20 and 24 years old, were found with gunshot wounds and later died at a hospital, police say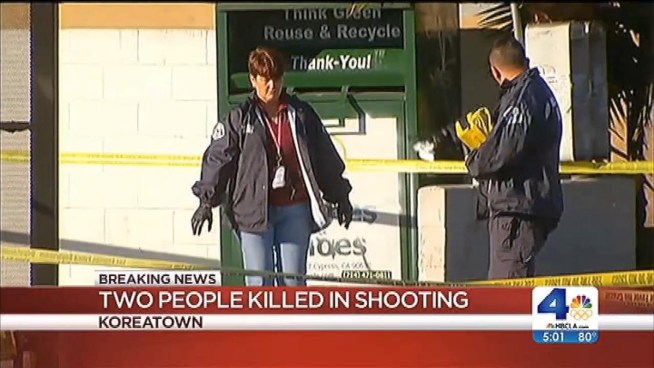 Kathy Vara
Police are searching for two men who were last seen leaving the scene of a shooting that killed two men in Koreatown. Kathy Vara reports from Koreatown for the NBC4 News at 5 p.m. on Monday, Jan. 20, 2014.
Police are searching for two men who were seen fleeing on foot after two people were found with gunshot wounds in Koreatown Monday afternoon.
The victims were found in a driveway near 3rd Street and Normandie Avenue about 2 p.m., according to the Los Angeles Police Department.
The two men, 20 and 24 years old, died at the hospital, police said.
Police were still searching for two people seen running from the scene, who they are considering armed and dangerous.
"It's really quite concerning that someone would be so bold to shoot and kill two people just standing around, so we are asking for the public's help," said LAPD Capt. Tina Nieto.
Details about the motive were not clear, but police are investigating whether the shooting was gang-related.
Police did not give a description of the shooter or shooters.