Super Bowl Sunday Brings SoCal Rain Showers
Rain was expect to linger in the Southland through the start of the week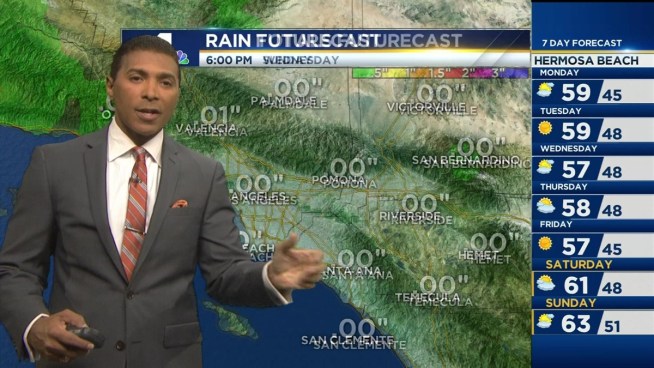 Rain showers quickly swept through Southern California, bringing a welcome weather change to the drought-stricken region. Skies were expected to clear by Monday, with a return of rain later in the week. NBC4's Byron Miranda has the forecast for the NBC4 News at 6 p.m. Sunday, Feb. 2, 2014.
Southern California saw welcome rain showers on Super Bowl Sunday, as Seattle Seahawks fans watching the big game claim they brought the rain from their seaport city.
Get NBC4's Free Mobile Weather App
Wherever the showers came from, the moisture was a welcome weather change for a drought-stricken region.
"Get outside and dance in the rain, because we need rain in California," Angeleno Gilbert Saryan said. "Finally, a little bit is here."

LA got its first measurable amount of rainfall in more than six weeks. And while it's not a downpour, it's a sight for dry eyes after so much news of California's devastatingly dry winter.
Seahawks Dominate Broncos 43-8 in Super Bowl Landslide
Storms were expected to continue through Sunday night into Monday, with drier skies following until the rain's expected return later in the week.
"We could even see some lighting with this vigorous frontal system," NBC4 meteorologist Byron Miranda. "This is probably the heaviest rainfall we've seen probably in the last year."
Temperatures were expected to be cool in the 50s and 60s across the Southland Monday.
Gov. Brown Urges Water Conservation
Last month, Gov. Jerry Brown declared a drought emergency, citing a need for water conservation and a fingers-crossed message that he "hopes it will rain." Angelenos and residents across Southern California were being urged to conserve water.

Southern California has only received about 1/7th of the amount of rainfall it should have by this time of year.