3 Abducted Palmdale Children Found Safe at Police Station: LASD
The children are now in custody of the Department of Children and Family Services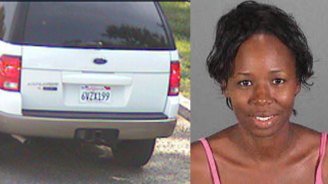 Los Angeles County Sheriff's Department
Law enforcement officials believe Nisshawn Murphy abducted her three children after a court forced her to give up parental rights to two of the three children, the Los Angeles County Sheriff's Department Palmdale Station said Tuesday, Dec. 3, 2013. The children were dropped off at an LAPD station Wednesday, Dec. 4, 2013.
Three children who were allegedly abducted by their mother were found safe Wednesday morning when a friend of the mother dropped them off at a Los Angeles Police Department station, officials said.
Authorities believe Nisshawn Murphy, 39, took her three children after a court ordered her to give up relinquish parental rights to two of her children last month, the Los Angeles Sheriff's Department said Tuesday.
A friend of Murphy dropped off her children at the LAPD Southeast Division Station on Wednesday about 10:30 a.m., Los Angeles Sheriff's Detective Luan Dang said.
The three children, Matisse, 10, Bryan and Treasure, both 4 years old, are in DCFS custody, Dang said.
Officials have not found Murphy. She is expected in court for a custody hearing Thursday, officials said.
Anyone with information is asked to call the Palmdale Sheriff's Station at 661-272-2500 or Palmdale Detective Dang at 661-272-2477.
More Southern California Stories: