Topanga Canyon Blvd. Reopens After Water Main Break Causes Closure
The leak inside the water main was about the size of an orange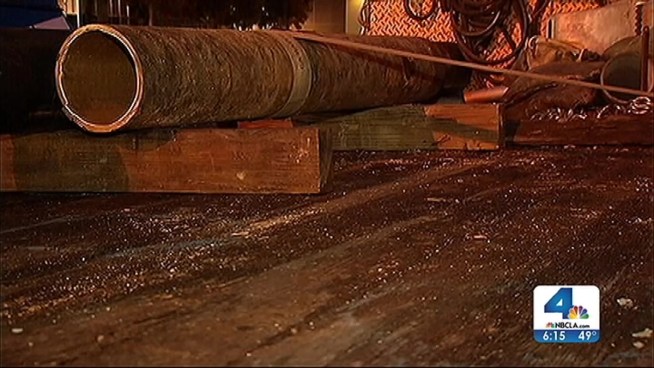 A water main break forced crews to dig a giant hole in the asphalt of Topanga Canyon Boulevard in Woodland Hills, closing a stretch of roadway heavily frequented by shoppers and cutting service to some local businesses. Kate Larsen reports for the NBC4 News on Saturday, Dec. 7, 2013.
A water main break that shut down a busy thoroughfare in Woodland Hills Saturday after it opened up a gaping hole in the road has been fixed, officials said Sunday.
Caltrans officials said traffic was flowing Sunday.
The water main break was reported about 9:40 a.m. in the 6300 block of Topanga Canyon Boulevard, knocking out services to some commercial customers, according to the Department of Water and Power.
The street had to be opened in order for crews to access the pipe, officials said.
Southbound Topanga Canyon Boulevard shut down from Victory Boulevard south to Erwin Street.
Crews repaired the line and restored service about 3 p.m.