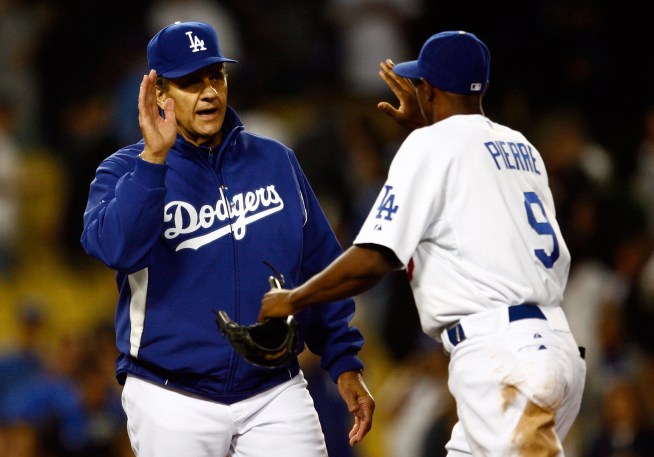 Getty Images
Somebody get Joe Torre and Juan Pierre to Vegas, because everything the do right now turns to gold.
This is how well things are going for the Dodgers — in the first inning Rafael Furcal laid down a drag bunt that is hard enough to get past drawn in Cubs third baseman Mike Fontenot and it rolls all the way to shallow right field. Juan Pierre, who was standing on second, scores easily to give the Dodgers a 1-0 lead.'
Whatever the Dodgers do, it just works. There may be less pop in the lineup right now, but the Dodgers are still finding ways to win. Starter Randy Wolf (3-1) made that stand up and the Dodgers won their fourth in a row 2-1 over the Chicago Cubs.
Pierre continues to be swinging the hottest bat in baseball. He went 2 for 4 on the night, improving his batting average to .440 since he was thrust into the starting lineup with the suspension of Manny Ramirez.
And that is one of the reasons the Dodgers just keep right on rolling with the best record in baseball at 34-15 (nine games up in the NL West). The other is pitching that comes through when they need it.
Ramon Troncoso was staked with a 2-1 lead when he was brought in during the eighth inning, where he had little trouble getting through the side. In the top of the ninth with runners on second and third and two outs, Joe Torre did not pinch hit for Troncoso and he proceeded to strike out.
Then he almost made Torre regret that decision, giving up a hits to the first two batters he faced in the bottom of the ninth. Still Torre stuck with Troncoso. After a sacrifice to move the runners to second and third, and an intentional walk to load the bases, Troncoso got Bobby Scales and Jake Fox to strike out to end the game.
That preserved a win for the hard-luck Wolf, who pitched seven scoreless innings but has pitched well this year in seven no-decisions for the Dodgers.
Friday starts the first of two Wrigley Field day games for the Dodgers, before a Sunday night ESPN game on national television.