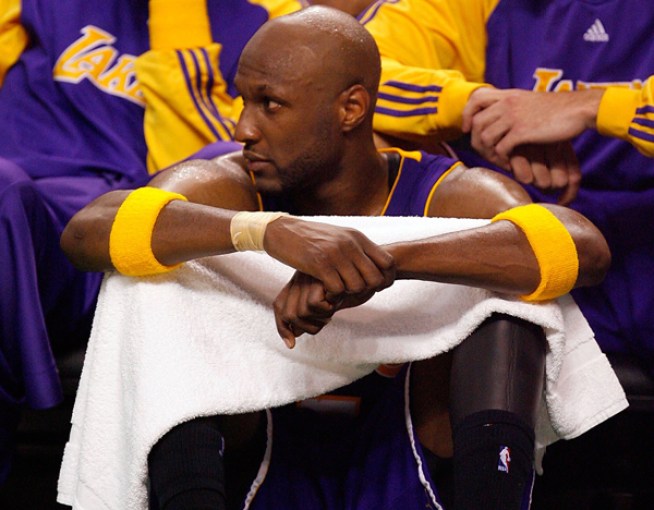 Getty Images
It took a while, but it seems that finally Lamar Odom is cool with starting the game on the bench.
At the beginning of training camp, Lakers' coach Phil Jackson was seeding the idea of trying out Lamar Odom in the role of sixth man. With Andrew Bynum's return, the Lakers simply wouldn't need Odom's rebounding while playing in the post with the starters, and having him come off the bench to run the second unit would only make the team that much stronger all around. But initially, Odom was simply not having it.
During the team's media day availability, Odom voiced his opinion that this was crazy talk, and implied Phil might have a screw loose for even considering it. You can hardly blame him for reacting this way, because Odom is in the final year of his contract this season. Obviously, he wants to showcase his abilities as much as possible to get his next big deal, and he didn't see this happening in a reduced role coming off the bench. But after a few preseason games seeing how it would shake out, along with assurances from Phil that it would not mean a decline in minutes, Odom now seems to be perfectly content coming off the bench.
"Not too many players have the humility to do that," Odom said. "To start their whole career and then come off the bench, without a problem. I'm really comfortable. Whatever the team needs me to, that's what I'll do."
"It's been done before, so it's no big deal to me," Odom said. "To be successful, to play for championships, that doesn't come around often. So, I'll do whatever it takes. I'm a humble dude. I'll put my ego aside."
So the humble, ego-less Lamar is all about the team now, and that's good news for the Lakers. If he can remain happy and productive in the sixth man role, there's no telling how far the team can go this season. And heck, it might even mean some additional personal hardware for Lamar himself: he's probably the early favorite to take home the NBA's sixth man of the year award.