Weekend: Holiday Boats, Nightlife, and Films
Santa Monica and Pasadena get jovial, get costumed, and visit pubs.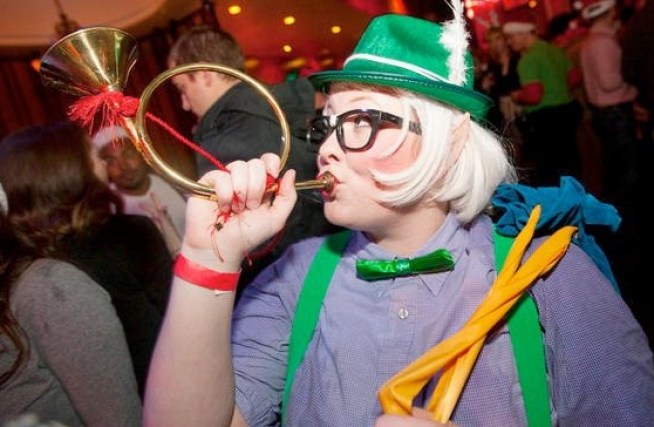 Colin Young-Wolff Photography
The Santa Monica Pub Crawl dresses in holiday cheer and takes to the streets on Saturday, Dec. 15.
SANTA MONICA PUB CRAWL: The mischief-making, oh-so-adult Santacon has come and gone for another year, but our city-by-the-beach's own home-grown dress-up-in-red-and-have-a-drink party is yet to come. It's year four for the outing, and a number of local taverns are on the merry beat. You've heard Santa Monica has a good bar or two, right? We tease. It's the holidays. They've got plenty. Saturday, Dec. 15
NAPLES ISLAND HOLIDAY BOAT PARADE: Marina del Rey's lighted-boats-on-water sailed last weekend, and the famous Newport Beach affair is next week. But we have a treat 'round these parts just ahead, and it is the Long Beach-close procession. How many lights should your mast hold? It doesn't matter in the end, but creativity, fun, and sparkle does. The theme this year is "A Holiday Salute to Our Olympians." Saturday, Dec. 15
FREE HOLIDAY MOVIE: Pasadena's Playhouse District has an especially sweet way of giving back to the community each year: a free film screened at the Laemmle Playhouse 7. This year the movie is "Disney's A Christmas Carol," there shall be singing and a Santa sighting, and the whole thing is set to be very merry indeed. It's happening on the morning of Saturday, Dec. 15, in case you have party plans that night.
GINGERBREAD AT ROY'S WOODLAND HILLS: A classic gingerbread house is one of the icons of the season, and yet it remains the confection that many people refuse to even try. All of those gumdrops and details can overwhelm, and how to make the walls stand? Restaurant favorite Roy's annual addresses this with gingerbread-making events during the month of December. The one in Woodland Hills is set to roll - or, er, apply frosting -- on Sunday, Dec. 16.
LONG BEACH CHRISTMAS COOKIE CONTEST: And speaking of sugary things, the annual LBC cookie contest is set for 1 Granada on Saturday morning, Dec. 15. We've heard of bake-offs in community centers and such, but we do love a cookie event that is open to an entire city. That's thinking big. Say, Los Angeles, maybe we can do one of these next year?