Rose Bowl Flea Market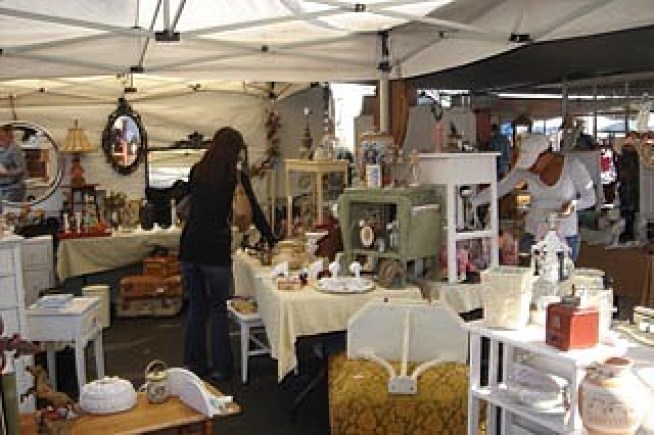 R.G. Canning
Will you finally find that milk-glass vase? Or the oak armoire? Or the felt fedora? Or the Snoopy lunchbox?
Frilly aprons, heavy cast-iron lamps, strange brooches Morticia Addams might wear. We love the Rose Bowl Flea Market any time of the year, but especially now as we head into our nesting-for-the-winter phase (as opposed to our chucking-everything-out-the-window spring-cleaning phase). Variety is key here, as is volume -- we're not sure we've ever seen the entire market, even after several hours of constant walking -- and the prices can be low-ish (remember to arrive with plenty of singles) depending on the vendor.
Keep in mind that the earlier you arrive, the more you'll pay for admission. And it is best to pack a rolling cart for your treasures. Everyone has their own secrets for tackling this mother of all fleas, but we generally like to stroll the inner circle, or the newer items, first. We snack on jerky samples and get our sea legs before jumping into all those vintage hats and braided rugs and such. Now if we could on find the game guy who has that Clue from 1960 we were eyeballing...
Rose Bowl Flea Market,
Rose Bowl, 1001 Rose Bowl Drive, Pasadena
Sunday, October 12