Beverly White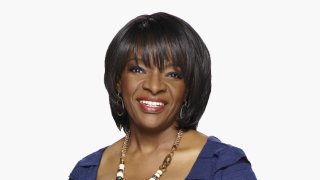 Beverly White joined NBC4 in 1992 as a general assignment reporter and appears weekdays on the NBC4 News at 4, 5, 6 and 11 p.m.
An accomplished journalist with nearly 40 years experience, White has covered a variety of local and national stories for NBC4, including the COVID-19 pandemic; street protests after the killing of George Floyd; mass shootings in Orange, CA, Aurora CO and Seal Beach, CA; the deaths of music icons Prince in Minneapolis, MN and Michael Jackson in Santa Barbara, CA; countless floods and wildfires in Southern California as well as the catastrophic mudslide in Montecito, CA and the deadly earthquake in Northridge, CA.
During the racial reckoning after the Floyd protests, White moderated topical virtual conversations with the Los Angeles Urban League, the Los Angeles Department for Civil and Human Rights, U.S. Congress-members Adam Schiff and Karen Bass , the Los Angeles Board of Supervisors, the Safe Communities Institute at the University of Southern California, the Jamaica Cultural Alliance and live on NBC4 digital platforms.
In 2018, White received the National Association of Black Journalists (NABJ) Chuck Stone Lifetime Achievement Award. That same year she was recognized by the Los Angeles County Board of Supervisors for her distinguished career. In 2017, the NABJ LA chapter celebrated White for her 25 years with NBC4.
Among her many honors, White also earned the 2017 Leadership Award from Kappa Tau Alpha, the Journalism Honor Society at Cal State University, Northridge; the 2012 Distinguished Journalist Award from the Society of Professional Journalists; the 2008 California Legislative Black Caucus Leadership Award; and the Distinguished Alumni Award from the Killeen Independent School District in her hometown of Killeen, TX.
Prior to joining NBC4, White reported for WTVJ, the NBC owned and operated station in Miami, where she was on the team that garnered the 1992 Peabody Award for coverage of Hurricane Andrew. Before that White anchored the weekday morning news for WKRC in Cincinnati. She began her career at KMOL in San Antonio, KCEN in Temple/Waco and KENS in San Antonio.
Throughout her career, White has shared her time and talent with colleges and non-profit organizations in the community. She continues to mentor students and interns she has met during her career.
White is a longtime member of the National Association of Black Journalists, and twice served as president of the then-local affiliate chapter, the Black Journalists Association of Southern California. She's been a member of SAG/AFTRA since 1985 and served on the AFTRA national broadcast steering committee.
White holds a broadcast journalism degree from the University of Texas at Austin where in 2019 she was spotlighted in the alumni magazine, The Alcalde. She lives in Los Angeles and enjoys traveling with her husband, a fellow journalist.