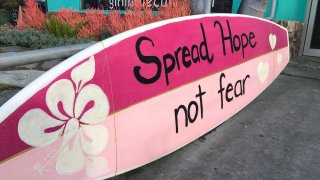 For those looking for ways to help the community with COVID-19 relief efforts, visit the links below for opportunities in Southern California and statewide. This page will be updated as more opportunities become available.
American Red Cross: How to give blood or volunteer your time
LA City and State Volunteer Opportunities
Virtual Volunteer Opportunities
Local
Local news from across Southern California
Volunteer your time and talent from home
Help Make Masks
LA Family Housing is looking for volunteers to sew and donate face masks. Click here for more info.
Write a Letter of Appreciation/Support
Use Your Professional Skills
Find a virtual project that fits your skill set for an organization that needs your help. To learn more, click here.
Foster a Shelter Animal
With fewer people visiting animal shelters, homes are especially needed for homeless animals. If you're interested in fostering a pet for a period of time or adopting, call your local shelter first to set up an appointment. Here are a few options:

LA City Animal Services, click here

LA County Animal Care, visit here
Orange County Animal Care, click here
San Bernardino County Animal Care, click here