NBC figure skating commentators Johnny Weir and Tara Lipinski have been catching some flak for their critiques of the figure skating performances at this year's Olympic Winter Games.
But two-time Olympian Weir (2006 and 2010) and gold medalist Lipinski (1998) say they're just doing their job.
"I think it's our job and our responsibility to be honest with our audience," Weir said.
The backlash against the analysts heated up after Nathan Chen's short-form performance in the team event Thursday that didn't meet high expectations set for the first-time Olympian.
Lipinski noted that right out of the gate, Chen appeared "tentative and slow." After the performance, during which Chen fell and failed to complete a rotation, Weir said it was "the worst short program I've ever seen from Nathan Chen."
Some were surprised to hear the no-holds-barred commentary and tweeted their disapproval:
STOP BEING MEAN @JohnnyGWeir

— Claire Polites (@claire_polites) February 9, 2018
[watching Olympic Figure Skating]

Me: HOLY CRAP!!! THAT ROUTINE WAS INCREDIBLE!!!

T.V. Announcer Johnny Weir: it's obvious to everyone how awful that routine was

Me: oh

— FirstTimeDad (@NewDadNotes) February 9, 2018
Take a drink every time Johnny Weir makes a mean comment about a skater #Olympics

— Meghan (@meghankocur) February 9, 2018
Am I the only one that finds Tara Lipinsky and Johnny Weir a touch harsh? "abysmal" "outrageous" "disaster" The slightest amount of empathy would be nice. #olympics#mensskating

— Abbey (@abbeyinvermont) February 9, 2018
But the duo pushed back against critics calling them "harsh" and "mean." Lipinski compared their commentary to that of NFL analysts.
"When a quarterback throws an interception, the commentators, the analysts, they call it out, and you just have to be honest with your audience," she said.
Weir clarified their take on Chen's showing.
"Nathan Chen's performance was not up to his usual standard. We're used to seeing him win every event that he's in; he's perfect, he's machine-like in many ways with the jumps." He said the performance "was disappointing for us as audience members, and for no one else more than for Nathan Chen."
Adam Rippon Is 'Special' on the Ice: Tara and Johnny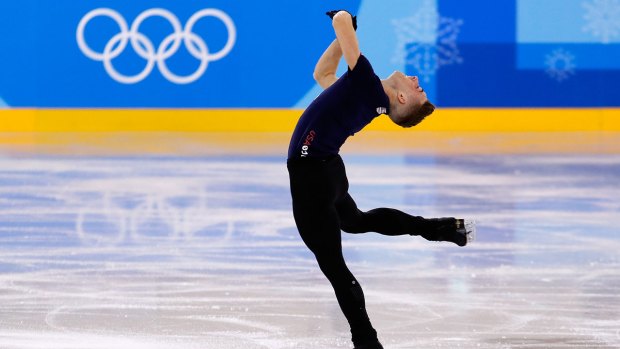 Both he and Lipinski told NBC that they believe in Chen and think he can definitely "rebound" for the men's individual program.
Despite some viewers' reactions, the commentators appeared to attract a lot of new fans as well.
I'm sorry is the women better then men in skating. Cause back in the day you didn't see all this falling. Johnny weir wouldn't fall. pic.twitter.com/9PIndHJ7zh

— Leslie Jones 🦋 (@Lesdoggg) February 9, 2018
"There's no one more judgmental than an ice skater" —Johnny Weir, effortlessly explaining why I love this sport

— Hillary Busis (@hillibusterr) February 9, 2018
I support Mean Johnny Weir. He's an announcer, not the skaters' damn publicist.

— James Poniewozik (@poniewozik) February 9, 2018
Trying to think of the funniest sporting event for Johnny Weir and Tara Lipinski to announce and the correct answer is The Masters

— super bowl champion ben (@VT_Ben) February 9, 2018
In praise of Tara Lipinski and Johnny Weir, the most fabulous Winter Olympics skating announcers: https://t.co/vboFqLbKUO#PyeongChang2018pic.twitter.com/aEvG2L0jZr

— Slate (@Slate) February 10, 2018
one way to fix the nfl next year would be to have @johnnygweir and @taralipinski call all games!

— daniel tosh (@danieltosh) February 9, 2018
"Is it a tree? Is it...a dinosaur? Neither. It's a disaster." -legends Tara Lipinski and Johnny Weir reviewing the self-portrait of a 3-year old.

— Tim Federle (@TimFederle) February 10, 2018
I will always, always need more Johnny Weir and Tara Lipinski in my life. They need to do commentary beyond the Olympics because waiting between Olympics for them is too long!

— Meghan McCain (@MeghanMcCain) February 9, 2018
And some said that beyond just being fun to watch, the commentators had a point. A Chicago Sun-Times opinion piece said they were "no more unforgiving than the sport itself." The website CinemaBlend wrote that the two "are really good analysts" and that "there are very valid reasons for why they were so aggressive last night: the skating was awful."
Chen scored an 80.61 for his performance Thursday night; a low score for the 18-year-old who normally scores at least 100. And he wasn't the only competitor who fell during that event; there were multiple falls, mistakes and stumbles from other skaters.
Weir and Lipinski say they just "tell it like it is."
They'll be doing so again, along with co-host Terry Gannon, on Saturday night for the ladies' short program team event and throughout the 2018 Pyeongchang Winter Olympics on NBC.
Bradie Tennell Can 'Turn Off the Emotion': Tara and Johnny