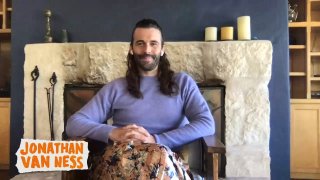 Pet adoption and fostering animals proved to be a saving grace for many Americans experiencing isolation during the coronavirus pandemic. But that doesn't mean there aren't challenges once a new furry family member crosses the threshold.
"Queer Eye" star Jonathan Van Ness was among those who decided to expand his family; over the summer, he welcomed a rescue dog named Pablo from Austin Pets Alive! Shelter in Austin, Texas.
"When I adopted a dog, I just didn't know what to expect," the 33-year-old reality star told TODAY over Zoom from New York City. "I went to a shelter that had COVID protocols that felt really good and then I just fell (crazy) in love with Pablo, but I just didn't know a lot of what goes into dog behavior or being a dog parent."
Van Ness rose to fame with his star turn on the 2018 Netflix reboot of "Queer Eye for the Straight Guy." The beauty guru quickly became a fan favorite for his lovable personality as well as his optimistic social media presence that often includes his cats Harry Larry, Matilda, Liza and Genevieve — so he's had experience with pet adoption before. (Van Ness identifies as gender nonbinary but his preferred pronouns are he/him/his.)
Genevieve and Matilda joined the family last year as kittens after his cat Bug the Second had a tragic fall from a window and died. "Of all the things I've been through, if you read my book, losing Bug the Second was like... I mean, I'm gripping my arm now just talking about it," Van Ness said. "It was so sad that I impulse-adopted two kittens literally the same day because I was so unhinged with grief. I never thought this could happen. I never thought it would happen."
Despite some of his cats having health issues in the past, Van Ness says that he was unprepared for Pablo. "A lot of dogs are that romanticized version of what you think adopting is," he said. "Like no issues. I think that's probably a lot of the time what does happen and for the first couple weeks, that was our experience. But then Pablo… with four cats, just started to see some things start to happen."
Van Ness said that Pablo soon became extremely possessive of him as well as of the couch, treats and toys, even if the toys first belonged to his cats. Known as resource guarding, this occurs when dogs exhibit behaviors like growling, lunging or biting over food or toys, according to the American Kennel Group. It is also known as "possessive aggression" and may occur in dogs of any breed.
This behavior posed a distinct problem for Van Ness as a celebrity; when people approached the pair on the street for a selfie, Pablo became his bodyguard.
"If you're walking a dog out on the street and you're a known person and someone comes up too fast, it's a lot of scary stuff," Van Ness said. "Or if you let a dog pop up on the couch whenever they want, all of a sudden, you have to reset boundaries. These were things that I just didn't understand about having a dog."
Van Ness is teaming up with Purina to share how pet owners can create meaningful moments for their pets this holiday season, whether it's giving them unique gifts and treats or spending quality time together. And like the stage parent he is, Van Ness was looking forward to sharing the spotlight for this campaign with Pablo, but that plan quickly unraveled.
"Harry Larry, my oldest cat, was meant for stage and screen. I literally think he could star in something," Van Ness said. "He loves it. He's obsessed. Pablo... not so much. I was thinking, 'Oh my gosh, I can do this gorgeous Purina moment, and we can have Pablo in it and this is amazing.' I think that'll probably be our last photo shoot for him. He just really doesn't like it that much."
Van Ness explained that preparing Pablo for the photo shoot is when he got a trainer involved; this showed him the different methods that help with dogs' behavioral issues. Instead of re-homing Pablo, Van Ness decided to send him somewhere to get the extra care he needs — what he lovingly calls "dog rehab."
"It's this incredible family, and they work with rescue dogs that need a little bit of extra attention," Van Ness said, adding, "He's just a dog who just needs more."
Pablo has made great progress and is expected to return home by Christmas, a little more than two months since he first went away.
"It's really just understanding that for a dog that you have adopted… he had a lot of stuff probably happen to him and I don't know where or what," Van Ness said. "I've also learned that it's not important for me to know exactly what happened, but he needs stability. He needs to be able to have someone that can help him through these situations and that's why I needed to look into a place that I could."
For others struggling with the challenges of a new pet, Van Ness said, "I just think compassion is the first thing that we need because there is so much guilt and shame."
"Pre-'Queer Eye,' there's no way I could have had the financial resources or even the emotional and mental resources to know what to do because it is honestly harder than I thought," he said. "I think it's just having compassion for yourself. If it is too much, and you know in your heart of hearts that you tried (and) it is not working? Fine, I think it is OK.
"If you need to make another choice for yourself and for your other pets and for the dog, follow the rules of the shelter, go by the book, but do what's best for your situation."
This story first appeared on TODAY.com. More from TODAY:
Copyright Today Digital Originals