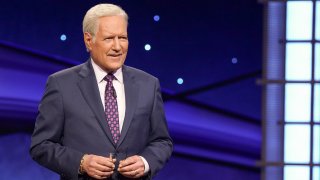 In a heartfelt pre-recorded message, the late "Jeopardy!" host Alex Trebek reminded his fans to hold out hope despite the pandemic, imploring viewers to "keep the faith," NBC News reports.
Trebek, who died on Nov. 8 after a long battle with pancreatic cancer, continued to film "Jeopardy!" during his cancer treatments and periodically shared emotional moments with fans and contestants.
The official "Jeopardy!" account tweeted the video on Thursday. "High on our list of things to be thankful for this year: Alex's Thanksgiving message from today's show. We hope you have a safe and happy Thanksgiving!" the post read.
In the short and sweet video, Trebek said "in spite of what America and the rest of the world is experiencing right now, there are many reasons to be thankful."