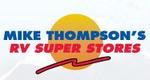 The following content is created in consultation with Mike Thompson's RV. It does not reflect the work or opinions of NBC Los Angeles's editorial staff. To learn more about Mike Thompson's RV, visit MikeThompson.com.
Now that it's summer, it's time to start planning your next family getaway. Fortunately, California is filled with "one tank trips" (from the mountains to the beach to the desert), making it the ideal state for your next RV adventure.
Even better? Owning an RV is far more affordable than you might think. For over 40 years, the family-friendly experts at Mike Thompson's RV have been helping customers purchase the ideal RV for their lifestyle, from camping trailers that can have a monthly payment maybe lower than your cell phone bill to fully-loaded luxury motorhomes.
And there's no better time to purchase your RV than now! The Annual Summer RV SHOW is taking place at Mike Thompson's RV now, meaning you'll be able to check out hundreds of vehicles from 67 manufacturers, enjoy closeout specials, meet factory reps and much more.
With five locations in Southern California and a staff of experts who hand pick the best RVs on the market, this family-owned company has the knowledge to outfit your next trip and the inventory to fit any budget. Choose from an unrivaled product line of new and preowned vehicles that include cozy campers perfect for outdoor adventures, Class A Diesel Pushers to full-on glamping-style RVs, replete with slide out walls, bathrooms and spacious kitchens. So whether you have young children, restless teenagers or it's just the two of you, Mike Thompson's RV has the right vehicle to help create a lifetime of memories.
But RVs aren't just for road trips. Stay local by tailgating at the stadium, heading down the street to your child's soccer game or having a slumber party in the driveway. The kids will love it and so will you.
So don't miss a moment with your family by heading down to Mike Thompson's RV today, where their team of personable RV experts will help you kickstart your summer adventures. Visit MikeThompson.com to learn more.