TGI Weekend! Halloween is fast approaching and the ghouls are out to play. From scary mazes to haunted houses, spirited train rides to pumpkin patches, there are spooky ways to celebrate the holiday in each corner of the county. Get up. Get out. Play!
Thursday, October 18
Kids Free October
Times Vary (through October), Locations Vary
It's the time of year where celebrating the little ones in your life gets even easier. October is Kids Free month in San Diego at more than 100 participating restaurants, attractions and hotels. That means free meals, free admission to theme parks, museums and more, and free gifts at several other locations. Kids can take a dive at Legoland when an adult buys their ticket, visit the animals at either the San Diego Zoo or San Diego Zoo Safari Park (or both!), or dine free at Carnitas Snack Shack, just to name a few. A list of all deals being offered in San Diego County this October can be found here.
Del Mar International Horse Show
8:30 a.m., Del Mar Fairgrounds
For more than two weeks, spectators can watch equestrian riders compete in a variety of jumping challenges at the Del Mar Fairgrounds. The Del Mar International Horse Show starts this week with Welcome Week and runs through October 28.
The Great Annual Pumpkin Festival
10 a.m. to 5 p.m. (through October), Children's Nature Retreat (Alpine)
Escape to this animal haven in East County for a unique pumpkin patch experience. Children's Nature Retreat invites kids daily (except Mondays) to learn about nature and its creatures through hands-on interaction with more than 120 animals on this 20-acre farm. During the month of October, the ranch gets a fall twist, transforming into a pumpkin patch and equipped with a six-foot-tall hay maze on top of the ranch's daily feeding and interactions. A single day pass to the farm costs $25 for adults and $15 for kids.
Boomont & Fall Fest 2018
5 to 10 p.m. (through Sunday), Belmont Park
Get thrills and chills during Belmont Park's annual Halloween festival, Boomont. The amusement park along Mission Bay is transformed into a festive getaway with themed rides and attractions like the Spooky Coaster and Zombie Laser Tag. Ride wristbands will be half-price to those that mention the offer. Kids 12 and under can dress up in costumes and trick-or-treat throughout the park from 6:30 to 7:30 p.m. each night. The festival is held on Fridays, Saturdays and Sunday through November 12 with different featured events each night.
Ghouls in the Garden: 'Lost Boys'
6:30 p.m., Stone World & Bistro Gardens (Escondido)
Have a haunting evening at Stone Brewing's sprawling Escondido garden as its overtaken by the chill of fall and a spooky movie screening. For the month of October, the brewery presents "Ghouls in the Garden," on select nights. Brave guests can watch these classic spooky films at the Escondido location's upper deck, like this week' pick "Lost Boys" released in 1987. While there, grab a pint of Stone Delicious IPA, Arrogant Bastard Ale or one of the dozens of other brews on tap. The screening is free but space is limited on a first come, first serve basis.
Friday, October 19
Pumpkin Express
10 a.m. to 5 p.m. (Saturday and Sunday), Pacific Southwest Railway Museum (Campo)
All aboard the Pumpkin Express! The Pacific Southwest Railway Museum Association invites brave guests to take a ride through San Diego County's mountains on their haunted railcars. Trains depart from the Campo Depot three times a day through Sunday, Oct. 28 for a scenic ride through the winding San Diego and Arizona Railway for those with an $18 ticket or $14 ticket for kids. When guests return to the Pacific Southwest Railway Museum, they will be met with a variety of Halloween-time activities, like pumpkin decorating and two haunted train walkthroughs.
Brick or Treat
5 to 9 p.m., Legoland Resort
Trick-or-treating gets Legofied this Halloween season. Brick or Treat at Legoland California Resort brings not-so-spooky thrills to families on Saturday nights through October 27. The amusement park will be adorned with 16 treat stations that each night will be filled with more than one million pieces of candy. Little ones can craft pumpkins and meet Lego friends at the fall festival within the park. Then, a midnight monster jam lets families dance the night away. Guests are encouraged to dress in costume for Brick or Treat. Tickets to the event alone cost $54 or can be purchased in combination with a day admission pass to Legoland or Sea Life Aquarium starting at $79.
Haunt Fest on Main
5 to 10 p.m., Downtown El Cajon
Before Halloween creeps into San Diego County, get some family-friendly spooks at Haunt Fest on Main. El Cajon's annual Halloween bash, on E. Main Street between Magnolia and Avocado avenues, is perfect for little ones and parents alike; the event features pumpkin patches, a kids zone, which will screen family-friendly movies during the event, and a trick-or-treat style candy challenge and carnival rides. The free event will also have two stages this year with live music, performances and this year's Haunt Fest costume contest.
Hops on the Harbor
7 p.m. to 10 p.m., Flagship Cruises & Events
Flagship Cruises' Hops on the Harbor gives a local San Diego brewery a chance to show off their best suds alongside a curated menu of offerings that perfectly accompany each beer. This month, Second Chance Beer, the award-winning Carmel Mountain brewery, joins Hops on the Harbor. Guests will enjoy four 6-ounce samples of Second Chance's creations and a cruise around San Diego Bay aboard a yacht. This month's menu features: a rhubarb-apple chutney grilled chicken with roasted garlic mashed potatoes paired with Second Chance's Brewbies in my Mind; and a grapefruit marmalade California halibut with a wild rice pilaf, roasted vegetables and accompanied by the brewery's Clever Hoppy Name, just to name a few. The dinner cruise boards at 7 p.m. from 990 North Harbor Dr. and sails past the San Diego skyline, USS Midway, Star of India and other Maritime Museum ships and the Coronado Bay Bridge. Tickets cost $79.50 for adults and $47.70 for children ages 4 to 12; kids 3 and under are free. Reservations are recommended.
The Haunted Trail
7 to 11 p.m., Balboa Park
Are you daring enough to traverse one of San Diego's most popular haunted Halloween-time destinations? The Haunted Trail, located on the corner of Balboa Drive and Juniper in Balboa Park, is a mile-long walk filled with the likes of Freddy, Michael Myers, The Nun and other terrors. The trail is not recommended for those under 10 years old. Tickets cost $25 but a VIP fastpass is available for $12 more.
The Heart of Rock & Roll
8 p.m., The Old Globe
One of rock and roll's most iconic artist is getting an entire show dedicated to his works. Huey Lewis told NBC 7 he never thought a musical adaptation of his works would be a reality. But through October 21, The Heart of Rock & Roll, which exclusively features the "Hip to Be Square" artist's work, will play on the Donald and Darlene and Shiley Stage at the Old Globe. The comedy follows a band playing the Chicago dive bar circuit waiting for their "big break." Tickets start at $39.
Saturday, October 20
Movies in the Park
Times Vary, Locations Vary
Across the county through October, cities are taking part in movie screenings at their local outdoor parks. Almost every day of the week, San Diegans can find a different free outdoor movie screening thanks to the county-wide initiative. The full calendar of screenings for the summer can be found here. Bring a picnic, chairs and a blanket to enjoy the movie of your choice starting at sunset.
SeaWorld's Halloween Spooktacular
10 a.m. to 9 p.m., SeaWorld San Diego
Don't wait for Halloween to trick or treat. Kids and their parents can stroll trick-or-treat booths set up throughout the SeaWorld San Diego for their annual Halloween Spooktacular, which runs this year through October 28. On top of treat hunting, families can sing and dance along to the all-new Sesame Street Halloween Parade, catch a holiday-themed Clyde and Seamore show and more. Spooktacular comes with a general admission ticket starting at $55, which gives guests access to all of SeaWorld's daily offerings.
Ye Scallywag! Festival
12 to 9 p.m., Waterfront Park
The San Diego Waterfront will become the spot for music lovers and beer fans alike this weekend. Performing at this year's Ye Scallywag! Festival are artists Rancid, Mighty Mighty Bosstones, Hepcat, Less Than Jake and The Interrupters. Guests with a $55 general admission ticket to will get access to more than 150 craft breweries, like Mason Ale Works, Ska Brewing, Thorn Brewery and more, offering up pours of their suds for three hours. Get an extra hour of tasting and access to special lounges with a $129 VIP ticket.
Dia de los Muertos
2 to 10 p.m., La Vista Memorial Park & Mortuary (National City)
The Mexican tradition to honor the spirits of loved ones who have passed away comes to National City. La Vista Memorial Park & Mortuary (3191 Orange Street) is hosting their 10th annual Dia de los Muertos Celebration. Guests can see altars decorated as they have been for centuries while enjoying cuisine from food trucks, music, art and live entertainment, all in honor of the dead. General admission tickets cost $5 and come with a shuttle ride from Plaza Bonita Mall.
Cans & Jams
2 to 5 p.m., Searsucker (Downtown)
The downtown bar and restaurant, Searsucker, has partnered with AleSmith Brewing this month to delight guests in sips of their brew for $6 a can. Some of the brews that will be available are named for famous San Diegans, like Sublime, named after the reggae-rock band who contacted AleSmith to create the suds. The beer makers also named a batch after Mt. Padre Tony Gwynn. $1 of each can sold during the event will be donated to the Tony and Alicia Gwynn Foundation. Signature bites from Searsucker's tasty menu, like their duck fat fries, spicy tuna poke and fish tacos, will also be available for happy hour prices. There is no ticket purchase required but guests should RSVP in advance.
Fleet Week San Diego: Military Tailgate
4:30 to 6:30 p.m., SDCCU Stadium
The Military Tailgate at SDCCU Stadium launches this year's Fleet Week celebration in San Diego. The event will feature an afternoon of tailgating, music and games ahead of the San Diego State Aztecs football game. The event is followed by a weeks worth of events and activities meant to celebrate San Diego's military men and women.
The Haunted Hotel
6 p.m. to 1 a.m. (Fridays and Saturdays), 424 Market Street (San Diego)
It's time to check in to The Haunted Hotel. One of San Diego's most popular Halloween haunts returns with some spooktacular frights. Guests will take a ride up the hotel's haunted Hellavator before walking own a bleak corridor filled with scares. On Wednesdays, try the whole thing in the dark. Tickets cost $20 and times vary; check the schedule here.
The Scream Zone
7 p.m., Del Mar Fairgrounds
Everybody scream! The Del Mar Fairgrounds again becomes a playground for horrifying creatures of the night for The Scream Zone. Enter if you dare into the three maze-filled haunts, including the popular haunted hayride, and other terrifying attractions with the purchase of a $34 ticket. A single haunt ticket is available for $21. This Friday only, admission is slashed in half. Outside the mazes, there are food and drink vendors and photo opportunities. The Scream Zone runs through October 31.
Sunday, October 21
Making Strides Against Breast Cancer Walk
7:30 a.m., Balboa Park
Breast Cancer affects so many lives in the United States. The American Cancer Society hosts this annual walk to ensure those people know they are not alone. NBC 7 and Telemundo 20 are walking in this year's "Making Strides American Cancer Society Walk" and want to invite you to join our team! The walk starts at 7:30 a.m. at the corner of 6th Avenue and Laurel Street and travels four miles around Balboa Park. After the walk, stay and enjoy live entertainment and food trucks.
Craft Classic Half Marathon & 5K
6:30 a.m., Green Flash Brewery (Mira Mesa)
San Diego is perfect for two things -- running and craft beer. This half-marathon decided to combine the two for a race through Mission Valley and along State Route 56. The Craft Classic ends its run with a pint of fresh brew from Green Flash Brewing Co. for all participants. Runners will also be given a commemorative t-shirt, beer glass and medal once completing the 5K or half-marathon. Then, hang out in the post-race beer garden. Registration costs start at $60.
Escondido Grand Avenue Festival
9 a.m. to 5 p.m., Grand Avenue (Escondido)
Escondido's main thoroughfare will once again be home to more than 400 arts, craft food and drink vendors as the Grand Avenue Festival takes over. The event is held twice a year and features live entertainment and plenty of family-friendly activities. The free event spans Grand Avenue from Centre City Parkway to Juniper.
San Diego Kids Expo & Fair
10 a.m. to 5 p.m. (Saturday and Sunday), Del Mar Fairgrounds
A children's paradise is taking over the Del Mar Fairgrounds this weekend. Kids will be able to choose from dozens of activities -- from a petting zoo to a magic show, a zip line to a pedal car race track and dance or karate classes to rock n' roll stages, just to name a few. Inside, more than 150 booths will have kid-friendly products to test out. Kids can get access to it all with a $35 wristband. Adult admission is $10.
Cephalopod Celebration
10 a.m. to 3 p.m. (Saturday and Sunday), Birch Aquarium
Celebrate the multi-legged sea creatures of the cephalopod family at the Birch Aquarium. Squid, octopus, cuttlefish, and their cousins have been around since before the dinosaurs, according to the aquarium, who will share their history during the weekend's festivities. Guests will -- for the first time ever -- be allowed to encounter an octopus. There will be other encounters, hands-on activities, a scavenger hunt during the Cephalopod Celebration. Access to the event is included with the purchase of a $19 adult of $15 child ticket to the Birch Aquarium.
Coronado Art Walk
10 a.m. to 5 p.m., Coronado Ferry Landing
Dozens of local artists will feature their original works of fine art -- from paintings to photography, sculpture to woodworking during this year's Coronado Art Walk. The free two-day event will be held at the ferry landing on 1st Street.
Halloween BYOD
2 to 7 p.m., Quartyard
This party's going to the dogs. Quartyard is hosting a Halloween-themed Bring Your Own Dog party for you and your furry companion this Sunday. Bring your dog to the urban park located in East Village for this event that will feature dog-friendly vendors and music. There will even be a dog costume contest with prizes for winners. The event is free but a $5 donation is suggested.
Free or Cheap Things to Do in San Diego
Times and locations vary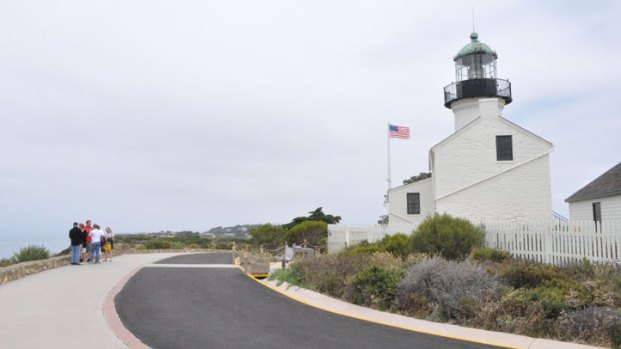 Free or Cheap Things to Do in San Diego
Looking to save some cash, but still enjoy the city? In San Diego, there are still plenty of activities to enjoy for free or on the cheap. Go for a hike at Torrey Pines State Park or Cowles Mountain, stroll Balboa Park, try a new craft brewery, admire the murals of Chicano Park or read a book at a downtown park. Get out there and explore America's Finest City.