TGI Weekend! With the holiday season in full swing, there are plenty of festive ways to celebrate in San Diego. From a fun outdoor movie and ice skating to a visit from Santa, twinkling lights and The Grinch. Enjoy the holiday magic in America's Finest City. Get up. Get out. Play!
Thursday, Dec. 13
Salvador Dali: The Argillet Collection
11 a.m. to 5 p.m., Meyer Fine Art
Meyer Fine Art, a fine art gallery located at 2400 Kettner Blvd., Suite 104, has extended its presentation of "Salvador Dali: The Argillet Collection," through Dec. 29. The exhibition is free to the public. The gallery partnered with Madame Christine Argillet, daughter of Dali's legendary publisher and confidante, Pierre Argillet, to present the artwork and sculptures, which are available for purchase.
North Park Thursday Market
3:30 p.m. to 7:30 p.m., North Park Way & Granada Avenue (North Park)
Shop local produce at this year-round farmers market located on the corner of North Park Way and 29th Street. Farm-fresh fruits and vegetables, meat, eggs, sauces, bread and even handcrafted gifts will be available for purchase from local small businesses. The free festival also features live music and is surrounded by gourmet dining options in the heart of North Park.
Hillcrest Taste 'n' Tinis 2018
4 p.m. to 9 p.m., Hillcrest
Hillcrest hosts its annual "cocktail party" with this self-guided food, drink and shopping tour of the buzzy little community. Participating eateries will offer samples of signature dishes, specialty appetizers and desserts while some retail locations mix up festive martinis and cocktails. Tickets cost $25.
Family-Friendly Christmas Nights
5 p.m. to 8 p.m., Westin Carlsbad Resort & Spa
Rides on the "Holly Trolley," the roasting of s'mores and letters to Santa are a few of the festive activities going down at these "Family-Friendly Christmas Nights" at the Westin Carlsbad Resort & Spa. The event has plenty for adults to enjoy too, including warming up with spiked hot chocolate flights and Christmas karaoke. It's free and open to the public, and returns on Dec. 20, too.
Oceanside Sunset Market
5 p.m. to 9 p.m., Main Street Oceanside (Canceled due to rain)
As if anyone needed another excuse to head to the beach for a sunset over the Pacific Ocean, the Main Street Oceanside business association is giving you one anyway. The Oceanside Sunset Market is taking over four city blocks of the downtown area so that about 200 local merchants can feature homemade crafts and tasty grub as live music wafts through the sea breeze-driven air. The free market is located on Pier View Way between Pacific Coast Highway and the Ocean every Thursday.
San Diego County Bike Coalition's Holiday Joyride
5:30 p.m. to 9:30 p.m., Balboa Park and Surrounding Areas
Hop on your bike and join the San Diego County Bike Coalition for its "Holiday Joyride" through Balboa Park, downtown and Hillcrest. The group will meet at Panama 66 in Balboa Park. The ride begins at 6:15 p.m. and will be followed by a light parade, food and drinks. It costs $25 to join the event.
Two Scientists Walk Into a Bar
5:30 p.m., Different Locations Across San Diego County
The Fleet Science Center brings back another round of "Two Scientists Walk Into a Bar," an event that brings local scientists to about two dozen bars across San Diego County for one night. The concept is simple: scientists visit watering holes and patrons are encouraged to ask them questions. The scientists will be sitting near a sign that reads, "We are scientists. Ask us anything!" This edition of the fun mingling session brings scientists to breweries and bars including Ballast Point on India Street in Little Italy, Culture Brewing in both Ocean Beach and Solana Beach, North Park Beer Co., and Panama 66 at Balboa Park, to name a few spots.
Wild Night Out
5:30 p.m. to 9 p.m., San Diego Zoo
Need a wild night out without the kids? This 21+, kid-free event at the San Diego Zoo features music, socializing, animal friends, talks with keepers and a preview of Jungle Bells, the zoo's seasonal affair. Tickets are $40 and include evening zoo admission, plus a drink (beer, anyone?). More food and beverages will be available for purchase at the event. Reservations are required; you can buy tickets online or by calling (619) 718-3000.
Friday, Dec. 14
Jungle Bells
9 a.m. to 8 p.m., San Diego Zoo
Each year during the holiday season, the San Diego Zoo transforms into a wild wonderland of twinkling lights, festive food and seasonal entertainment dubbed "Jungle Bells." This year's festive fun runs from Dec. 14 through Jan. 6 and includes daily performances from Jingle Brass, a jazzy caroling group (on the Front Street Stage) and The Tinseltones, a holiday harmonizing bunch (Africa Rocks Stage). Visitors can also enjoy the Celebration of Lights show every half-hour, from 4:55 p.m. to 7:55 p.m., on Front Street and "Dr. Zoolittle's 'Twas the Night Before Christmas," a zany retelling of the classic poem (at Koalafornia Boardwalk). All Jungle Bells activities are included with paid admission into the zoo. Daily zoo hours are extended for this event until 8 p.m.
Rady Children's Ice Rink
10 a.m to 10 p.m., Liberty Station
Grab your skates and take a spin on the ice while supporting a good cause this holiday season. NBC 7 and Telemundo 20 are partnering with Rady Children's Hospital for this festive ice rink in the heart of Liberty Station. All proceeds benefit the hospital's Peckham Center for Cancer and Blood Disorders. The Rady Children's Ice Rink is open every day from 10 a.m. to 10 p.m. through Jan. 6 at Liberty Station, except Christmas Day. Tickets are $15 for adults and $13 for children. Discounts are available for military personnel.
Shop + Hops Holiday Market
4 p.m. to 10 p.m., Bread & Salt in Barrio Logan
San Diego Made – an organization that supports local artists and makers – will host this fun holiday shopping market Friday night, with the help of Alta Brewing. "Shop + Hops," taking over Bread & Salt (1955 Julian Ave.) in Barrio Logan, will feature about 50 local makers, beer and wine tasting, food vendors, live music, a free kids activity station and more. If you purchase $40+ worth of goodies from one of the makers, you'll receive a free, handmade gift and will be entered into a live raffle that starts at 8:30 p.m. It costs $5 to enter the market, which includes all beer and wine tastings. Kids age 10 and under get in free. This event will also serve as a fundraiser for the San Diego Made Factory, a workspace for local creative and small businesses set to open in Logan Heights next year.
Garden of Lights
5 p.m. to 8:30 p.m., San Diego Botanic Garden
After the sun goes down, more than 125,000 sparkling lights will illuminate the San Diego Botanic Garden, turning the grounds into a festive, winter wonderland. The Garden of Lights celebration is included with admission into the Botanic Garden, which costs $25 for adults, $10 for seniors and active duty military, and $5 for kids ages 3 to 17.
Film & Float: "Elf"
6:30 p.m. to 9:30 p.m., The Lafayette Hotel, Swim Club & Bungalows
The Lafayette's "Dive In" – outdoor movies at the hotel's pool – presents this free, all ages screening of "Elf." Attendees can purchase $5 food and drinks during the movie. Reservations are not required but for the best seating, arrive early.
Dr. Seuss's 'How the Grinch Stole Christmas!'
7 p.m., The Old Globe
The Grinch can't stop Christmas from coming this year but he can bring his shenanigans to The Old Globe. For the 21st year, the theater in Balboa Park is showcasing "How the Grinch Stole Christmas!" the classic musical with catchy tunes like, "You're a Mean One, Mr. Grinch," and "Welcome, Christmas (Fah Who Doraze)." See the show on the Donald and Darlene Shiley Stage with tickets starting at $54.
Saturday, Dec. 15
Vet Pet Wag
10 a.m. to 6 p.m., San Diego Convention Center
This pet-centric expo takes over the San Diego Convention Center Saturday (10 a.m. to 6 p.m.) and Sunday (10 a.m. to 4 p.m.) showcasing the latest in products and services for furry friends. Pet parents and families will be able to learn about pet behavior, nutrition, enrichment, allergy management and senior care, all from veterinary experts, and check out new pet foods, treats, toys and more. Tickets cost $15 for adults, $5 for military, and $5 kids ages 6 to 12. Pets and kids age 5 and younger get in free.
Council Brewing Co. Closing Party
11 a.m. to 8 p.m., Council Brewing's Kearny Mesa Tasting Room
Council Brewing Co. is closing its doors after five years in business. On Saturday, the Kearny Mesa tasting room on Convoy Court will host a farewell party with discounted brews and archive kegs on tap. Council Brewing owners Curtis and Liz Chism say they will miss their patrons and creating small-batch brews but in San Diego's highly-saturated craft beer industry, their business can't stay afloat.
Polar Express Family Day
11 a.m. to 3 p.m., San Diego Model Railroad Museum
Round up the family and wear your pajamas to this cozy screening of "The Polar Express" at the San Diego Model Railroad Museum in Balboa Park. After the movie, kids will be able to craft a special keepsake and enjoy a visit from someone special at the museum. The jolly event is included with paid admission into the museum, which costs $11.50 for adults and $6 for kids ages 6 to 14. Children age 5 and under get in free. The movie will start at 11:30 a.m.
Holiday Petting Zoo
11 a.m. to 4 p.m., Liberty Public Market
This free, holiday-themed petting zoo presented by the Berry Good Food Foundation and Farmer Jack will set up its little paddock on the patio at Liberty Public Market. Bring the kids and take family selfies with baby goats, donkeys and other fuzzy friends.
San Diego Creative Stitchery Guild Presents: Works Inspired by Laurel Burch
1 p.m. to 5 p.m., Bazaar del Mundo (Old Town San Diego)
The San Diego Creative Stitchery Guild is curating a display of fanciful, textile handiworks inspired by late artist Laurel Burch and created by local art guild members. The works – which commemorate Burch's mythical animals, bright blooms, moons and hearts – will be on display at Diane Powers' Bazaar del Mundo in Old Town San Diego this Saturday. The free event includes a meet-and-greet with Burch's daughter, Aarin Burch, who will share stories about her mother's life and legacy. Free Mexican hot chocolate and other seasonal treats will be served at the event.
Skate With Tara Lipinski
4 p.m. to 5 p.m., Hotel del Coronado
Olympic Gold Medalist Tara Lipinski hits the ice at Hotel del Coronado's Skating by the Sea rink for this epic skating session. Up to 50 children of all skill levels (age 18 and under) are invited to skate with Lipinski to a playlist custom-picked by her. After ice time, the kids will enjoy cookies, hot chocolate and photos with the star skater. At $150, the tickets to this event are pricey but if you've got an avid ice skater in your life, this could make a great early Christmas present.
Holiday by the Bay
5 p.m. to 11 p.m., Hilton San Diego Bayfront
Looking for a little more excitement this holiday season? New this year, the Hilton Bayfront is opening a holiday adventure park along San Diego Bay. Holiday by the Bay features reimagined traditions -- like a two-story ice tubing slide, "iceberg" bumper cars and a dynamic light show centered around a Christmas tree, to name a few. For adults, festive cocktails will be doled out at the Yule Lodge cocktail bar. The adventure park is open through Jan. 5, 2019, to those with a ticket, starting at $20 or $15 for those under 12. Some activities cost extra.
San Diego Gull vs. San Jose Barracuda
7 p.m., Valley View Casino Center
The San Diego Gulls hits the ice against the San Jose Barracuda at this Saturday night home game. Tickets start at $25; the pucks drops at 7 p.m.
Noel Noel: A City Lights Presentation
8 p.m., Copley Symphony Hall
The San Diego Symphony performs its annual "Noel Noel" holiday concert boasting the powerhouse vocal talents of Broadway star Bryonha Marie Parham, led by conductor Sameer Patel. The San Diego Master Chorale and San Diego Children's Choir will also fill the hall with festive songs including "Silent Night" and "Sleigh Ride." Tickets range from $28 balcony seats to $72 main front center seats. "Noel Noel" returns to the stage on Dec. 21 and Dec. 22.
Sunday, Dec. 16
San Diego Vintage Flea Market: For the Holidays
9 a.m. to 3 p.m., The Observatory in North Park
This intimate, holiday-themed flea market invites shoppers to the back lot of The Observatory North Park in search of special gifts. Admission is free; bring some cash to buy some goodies.
Guided Nature Walk
9:30 a.m. to 11 a.m., Mission Trails Regional Park
Start your Sunday with a little nature walk at Mission Trails Regional Park. A trail guide will take visitors through one of three trails -- the Oak Grove Loop, the Visitor Center Loop or the Riverside Grinding Rocks -- while talking about the plants, animals, geology, history, and ecology of the park. These weekly guided walks are free and open to the public and begin at the Visitor Center. Wear sturdy shoes and bring water, a hat and sunscreen. Rain cancels the walk.
Holidays at Legoland
10 a.m. to 5 p.m., Legoland California Resort
Legoland California Resort is decked out in festive décor now through Dec. 31 as the theme park celebrates the holiday season. One highlight: an impressive 30-foot-tall Christmas tree made of Lego bricks and outfitted with twinkling Lego ornaments, which comes to life with light and music each night. Guests will be able to meet their favorite Lego characters dressed in seasonal attire – plus Santa Claus himself – and enjoy live entertainment throughout the park, including a new holiday light show. The park will also be dishing out exclusive seasonal treats, like peppermint shakes and Nutella and peppermint crepes, to name a few. The holiday bells and whistles are included with regular paid admission into Legoland, which starts at $75 for ages 3 and up.
Santa Visits the Little Italy Food Hall
12 p.m. to 2 p.m., Little Italy Food Hall
Santa makes his way to the Little Italy Food Hall for festive photos and merrymaking in front of the Piazza della Famiglia fountain, just outside the entrance to the food hall. If you buy something that day from a Little Italy Food Hall vendor, keep your receipt because if you show it at the fountain, you'll get a free photo with Santa.
Viejas Outlet Center Ice Rink
Times vary, Viejas Casino and Resort
Hit the ice skating rink at Viejas Casino & Resort – one of the largest rinks of its kind in sunny Southern California. A $16 ticket for adults or $14 ticket for kids (12 and under) gets you 90 minutes on the ice, or you can buy a season pass if you plan to visit several times this season. The rink is typically open from 5 p.m. to 10 p.m. during the week and 3 p.m. to 10 p.m. on the weekends. Check the schedule here before you go.
A Very Carnitas' Christmas
4 p.m. to 7 p.m., Carnitas' Snack Shack
The Snack Shack along the Embarcadero will have live entertainment during the San Diego Bay Parade of Lights, should this be your preferred parade-viewing location. The Shack will offer festive treats during the event including hot chocolate, peppermint soft-serve and holiday-inspired cocktails. Visitors can also partake in fun, free activities like ornament decorating, lawn games and a photo station.
Skating by the Sea
Times Vary, Hotel Del Coronado
There are few places in the world where you can glide on an ice rink just feet from the ocean. The Hotel Del Coronado offers just that at their annual Skating by the Sea event. Through Jan 1, 2019, guests can take a spin on this beachside rink and enjoy sweeping views of the San Diego Bay with the purchase of a $35 ticket. Times vary by day so be sure to check the schedule here before you go.
8 Must-See Ocean Views in San Diego
47th Annual San Diego Parade of Lights
5 p.m., San Diego Bay
A Christmas tradition in San Diego, the Parade of Lights returns for its 47th year to the beautiful bayfront. The local boating community will deck out vessels in lights and festive decorations and float along San Diego Bay, illuminating the water for spectators. This year, the theme of the holiday boat parade is "Tropical Island Christmas," so expect a few palm trees and pineapples. The San Diego Bay Parade of Lights typically attracts more than 100,000 spectators to the shores of San Diego Bay. The parade starts at Shelter Island, then heads to Harbor Island, the Embarcadero, Seaport Village, the Pier at Cesar Chavez Park and ends at the Coronado Ferry Landing. The procession takes about an hour to pass any given point and there are many viewpoints for spectators. The waterfront will get crowded, so spectators might want to plan ahead and take the trolley.
Free or Cheap Things to Do in San Diego
Times and locations vary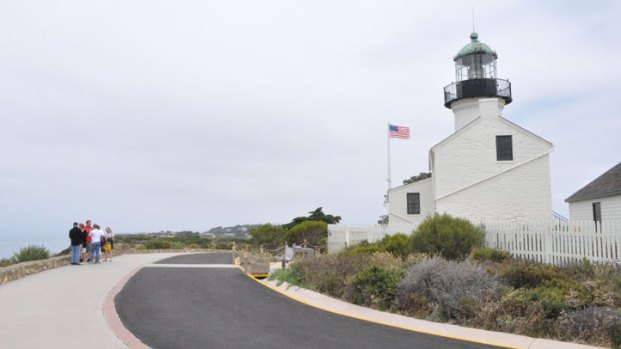 Free or Cheap Things to Do in San Diego
Looking to save some cash, but still enjoy the city? In San Diego, there are still plenty of activities to enjoy for free or on the cheap. Go for a hike at Torrey Pines State Park or Cowles Mountain, stroll Balboa Park, try a new craft brewery, admire the murals of Chicano Park or read a book at a downtown park. Get out there and explore America's Finest City.
Do you love the weekend in San Diego? Are you looking for things to do? Join our Facebook group, Your San Diego Weekend. We're sharing weekend events, things to do with the whole family, weather, the newest restaurant openings and more! Click here.