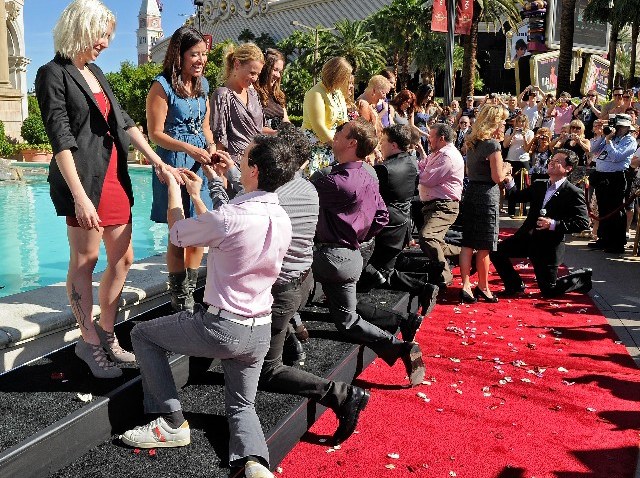 When talk of 10-10-10 began in earnest a few weeks ago, one event in particular caught our eye, and it involved ten couples getting engaged at 10:10 a.m. on October 10 in Las Vegas. We just had an "ohhhh, Vegas, you!" moment. And not enough cities evoke such moments, in our books.
How would it go down? Engagements are often on the private side, save the occasional gather-the-whole-family-up-to-propose scenario. Plus, Donny Osmond would be at the mic. Would he sing "Puppy Love" or another love song to get the couples in a wooing sort of mood?
And what do you wear to your own engagement when a man who once ably rocked shiny '70s jumpsuits in primetime is do the hosting honors?
Well, the photos are in, and the one above is a favorite. The proposers did indeed get down one knee; the proposees stood fountain-side. And that is Mr. Osmond at right, near the back, with his own wife, Debbie Osmond.
You can read more about the oh-so-Vegas, big-big-big extravaganza, at the Forum Shops at Caesars Palace Facebook page.
Copyright FREEL - NBC Local Media