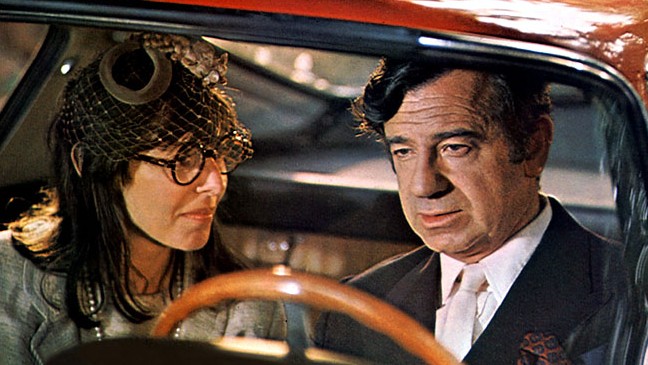 Confession? We're mad for our movie studios.
We're mad for their product, yes; but that they simply are simply charms. Being in another city that is distinctly movie-studio-less fills one with a tad of sad, we find; we just think, "but where are your dream factories, different city that isn't LA?" And then a small boy walks by and hands us a blue balloon. Somewhere, an accordion plays.
Or that might have been a Fellini-esque dream we had. In short, we're pretty in love with the studios, and when we make for Melrose, and we see that great, globe-y pile hulking up the Raleigh-Van Ness corridor, we smile.
It's Paramount, of course. It's a studio that, in 2012, will celebrate its first century. (Sure, it went through a few iterations in the beginning, but don't we all?) In honor of this occasion, Film Independent will be saluting the Matriarch of Melrose with a monthly double-bill on the final Thursday of each month for the first five months of the year. The location? LACMA.
And goosing the series out the gate? "A New Leaf" and "She Done Him Wrong" on Thursday, Jan. 26. Walter Matthau and Cary Grant fans, you're in luck. And wait. Isn't that all of us? Then we're all in luck.
They're both comedies and, hello, Elaine May was in and wrote "Leaf." Leading the way for funny writers everywhere, and that's men and women alike.
So, what's ahead for Paramounties? Good stuff. Watch the Film Independent site for next month's fare. And do give a wave to Bronson Gate next you drive down Melrose. You know you can see the Hollywood Sign perfectly when you stand in front of the studio icon? No need to look too deeply for the symbolism in that one.
Follow NBCLA for the latest LA news, events and entertainment: Twitter: @NBCLA // Facebook: NBCLA
Copyright FREEL - NBC Local Media