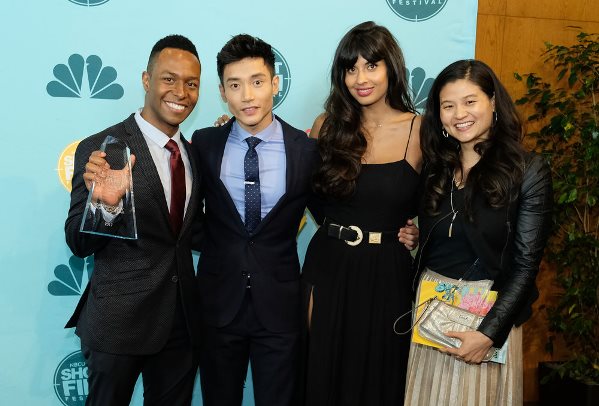 On October 18, 2017, the 12th Annual NBCUniversal SHORT FILM FESTIVAL honored nine finalist films and filmmakers with a finale screening and awards ceremony at the Directors Guild of America in Hollywood.
Comedian-actor Kym Whitley ("Young & Hungry") kicked off the evening with a screening of the finalist films, Akashi, Audible Static, Couples: Movie Night, Cul-De-Sac, Emergency; Groundhog Day for a Black Man, Lost Dogs, Misery Loves Company: Pussy and Pop Rox, in front of 700 industry professionals.
Several presenters, inlcluding Essence Atkins ("Marlon"), Ester Dean (Pitch Perfect 3), Chris Sullivan ("This is Us"), and Akbar Gbajabiamila ("American Ninja Warrior"), among many others, handed out awards in eight categories to the finalists including the HARNESS Social Impact Award, inaugural Critics' Choice Award, Outstanding Drama and Outstanding Comedy.
The film festival is presented by NBCUniversal, parent company of NBC4, and NBC Entertainment with title partners Universal Pictures, Panavision, Xfinity and the NBCUniversal Division for Social Responsibility.
Visit the NBC4 Community photo gallery for additional photos and nbcushortsfest.com for more details about the event.