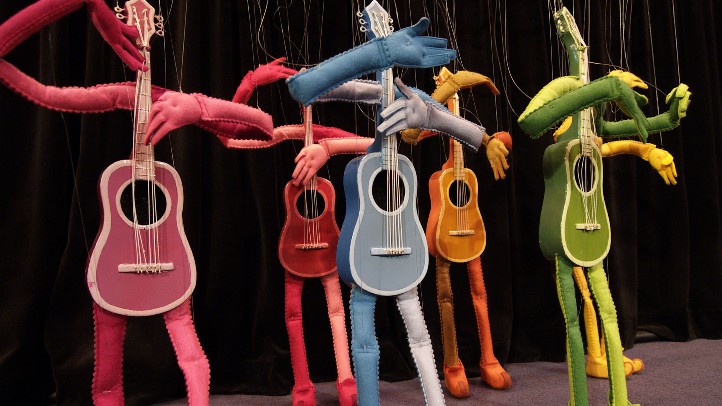 While many of us have been focusing on the year 2012 -- either by saying "can you believe it is 2012?" or "how can it be 2012?" or "serious, 2012?" or some variation on that theme -- a few creatively minded souls have been busily summoning the spirit of 1964.
That's because a marionette show from that very year is due to get its lively revival this week, at the very theater where it originated. You're already pre-charmed, we can tell, and we are, too. Add in guitars that play themselves -- see above -- and happy songs and the name of Bob Baker and we're betting you move smoothly from pre-charmed to present-charmed. And quick.
That's because the maestro of all that is good and marionette-marvelous is reviving "Fiesta," a production he created back when televisions sported rabbit-ear antennae and faces drawn on hands very often scored their own primetime shows or variety segments. (Kisses, Señor Wences and Johnny.)
"Fiesta" opens at the Bob Baker Marionette Theater -- or reopens, we suppose -- on Saturday, Jan. 7.
Fans of the one of the most famous puppeteers on the planet know to expect toe-tapping tunes and sweet marionettes swinging and swaying around each other and a downtown-close theater that still boasts plenty of dark-curtained vintage charm. We like the bright-eyed cactus marionettes pictured on the Baker site.
General admission is $15; kids under two get in free. (Note: The site currently lists a $20 fee but a representative says it will be $15.)
Only one question remains: Will you school the children on 1964 on the drive home? Do you remember 1964? Can you revisit a few facts about it ahead of time? C'mon. They at least need to know about Señor Wences and his hand-pal Johnny. Everyone should.
Follow NBCLA for the latest LA news, events and entertainment: Twitter: @NBCLA // Facebook: NBCLA
Copyright FREEL - NBC Local Media