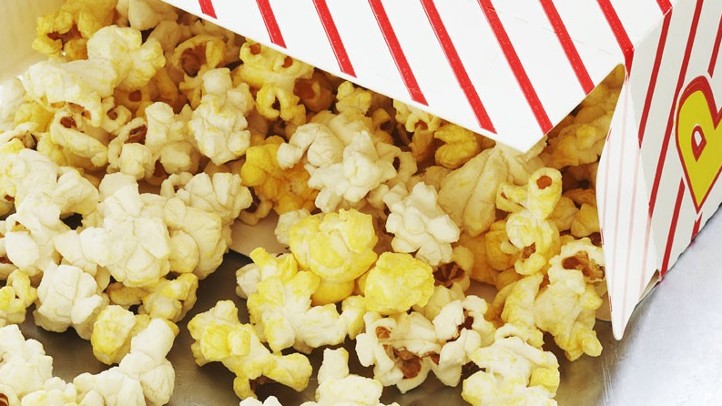 If the Chinese Theatre had chosen to mark its 85th year with movies priced for $8.50, we would have been like, yeah, hey, all right, we're feelin' it. Or if they had chosen to do up the big 8-5 with 85-cent tickets we would have been really wowed and impressed.
But nope, they've gone lower. You've heard about the quarter movies at the landmark screen, yes? Famous flicks like "Breakfast at Tiffany's"? Good stuff. Now the Chinese is kicking off a whole family line-up and scheduled it for Saturday mornings during July and August.
These'll be at the Chinese 6, not the main screen, but if you're wondering if the price to get in'll still be a quarter, wonder no longer: yes. Yes, is the answer. A big, happy, 25-cent yes.
The films start on Saturday, July 7 with "Bee Movie"; "The Spongebob Squarepants Movie" is the last film of the series on Saturday, Aug. 25. All movies start at 10 a.m.
Two interesting things of note: The 25-cent admission fee hearkens back to the ticket prices when Grauman's Chinese Theatre first opened in 1927. That's why we're not seeing $8.50 tickets or even 85-cent tickets. Sweet.
The second thing? Healthy treats, like fruit and yogurt, will be for sale at the concession stand during the Saturday morning familiy movies in addition to treats like popcorn. If you're paying a buck to get your family of four in, perhaps you'll want to stash a little cash for concession treats.
There is a 6-ticket limit, says a theater rep.
For the full line-up, eye the list below (and keep watch the Chinese Theatre site for updates; you should be able to find your particular movie by date). Again, this at the Chinese 6. Oh, and parking? You can stow the car at Hollywood & Highland for two dollars. Just be sure to get your ticket validated.
Now, off to raid the change jar...
FEATURED FAMILY FILMS AT 10AM EVERY JULY-AUGUST SATURDAY:
7/7 Bee Movie
7/14 Madagascar 1
7/21 Puss in Boots
7/28 Kung Fu Panda 1
8/4 How to Train Your Dragon
8/11 Megamind
8/18 Monsters Vs. Aliens
8/25 The Spongebob Square Pants Movie
Follow NBCLA for the latest LA news, events and entertainment: iPhone/iPad App | Facebook; | Twitter; | Google+; | Instagram; | RSS; | Text Alerts | Email Alerts
Copyright FREEL - NBC Local Media