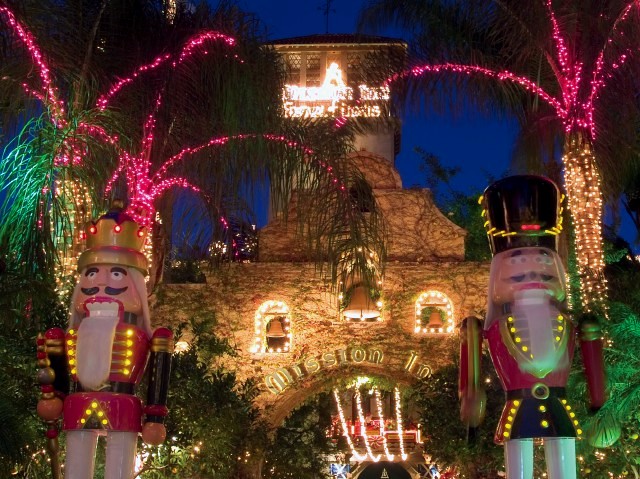 We won't be jetting to The Continent this year, what with the dollar and all, but the Mission Inn in Riverside is really very nearly like calling upon some mysterious, historic chateau deep in France's wine country. And when the famous hotel puts on its annual Festival of Lights, it really spectacular-ups the season; in fact, the Mission Inn's light display has become known far outside the reaches of SoCal.
It's big. It gets national attention every year. The 2009 shout-out came from USA Today, in an article that also mentions the National Christmas Tree.
So is it merely a string here or there? That, times like 50,000, give or take. There are, in fact, some 3,500,000 lights adorning the nook-and-cranny-adorned building and it started the Friday after Thanksgiving and ends Sunday, January 3. It's a picture-postcard book of dazzling vistas and holidays scenes: Nutcracker soldiers, angels, a bevy of ornaments and a charming horse-drawn carriage.
As mentioned, the Mission Inn kept the merriment going throughout December, but all good things must come to an end. If you want to see Duane Roberts, the hotel's owner, turn the lights on one last time for the season, be there at sundown on Sunday, January 3. Caroling from costumed singers and a joyous, let's-get-this-party-started feeling is always in the air and part of the scene.
Copyright FREEL - NBC Local Media