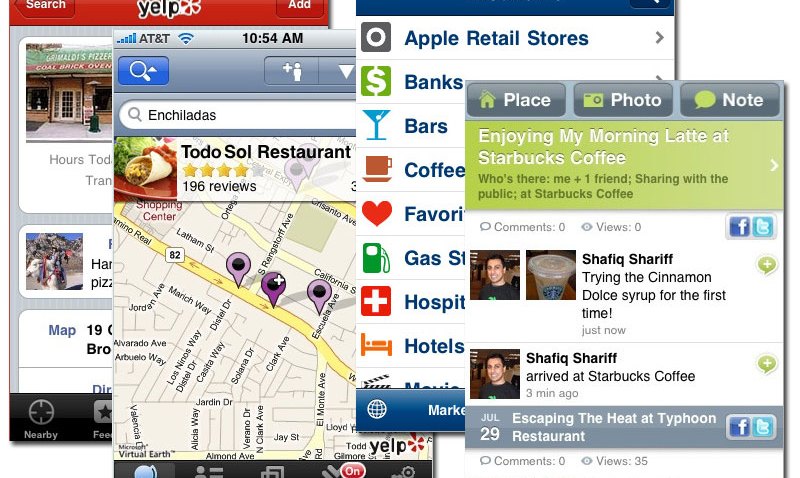 They are questions that haunt every self respecting city dweller. What am I going to do tonight? What are my friends doing? Where are the best places?
If you find yourself stuck in the social doldrums and new some new inspiration, a new crop of iPhone apps promise to help and even better, they want to include your friends.
The Basics: What's AroundMe
From bars and restaurants to parking and coffee, AroundMe allows you to quickly find information about your surroundings. The app identifies your position and allows you to choose from a long list of items nearest you.
Results are quickly displayed on a Google map. A finger tap gets you directions and a phone number. Convenient access to Facebook, Twitter, and email lets your friends know where you're headed.

Stay in the Loopt
Loopt combines a dash of Yelp with a splash of Facebook and let's you see where your friends are and what they're doing. The developers promise you'll "never be lonely, bored or hungry again."
Loopt connects to popular communities like Facebook and Twitter so you can share photos, comments, meet people, and discover and explore nearby places that your friends like. The app works with other devices so you can also share location with friends even if they don't have an iPhone.
Give it a Whrrl
Like Loopt, Whrrl combines social networking with location information and keeps you updated on what your friends like and where they are. Users create "stories" describing their activities, add pictures, and include others who can collaborate with you. Think of it as a more mobile version of Facebook that helps you discover new places, things to do, and meet people.
Yelp What You Like but Try the Surprise
No list would be complete with out the the perennial website's handy app. Yelp for iPhone combines their extensive review database with an easy to use touch interface to get you the latest reviews, openings, and hotspots in your area. Search options make it easy to find what your looking for.
But, there's also a new surprise. Yelp has added a secret 'Easter egg' function for iphone 3Gs: augmented reality. Once activated the AR function works via a new button on the top right of the screen, labeled 'Monocle'. Click it and your presented with a real world view from your camera overlayed with nearby places. As you move around, Yelp moves with you in a virtual-reality like way constantly updating things in every direction.
The surprise can be unearthed by simply (or not so simply according to some) shaking the app a few times. Check out the video below to see it in action.