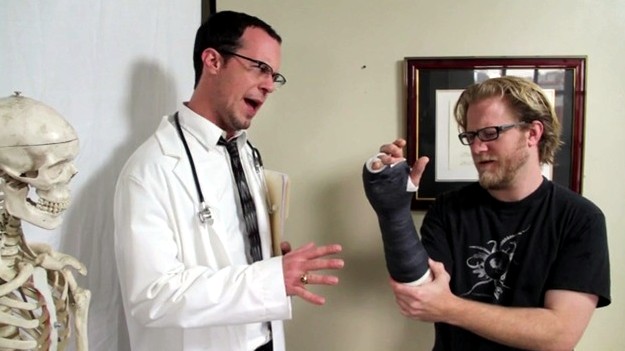 What? You say the short films you saw at the last short film festival you went to were like seven or eight minutes? Each? What? Come again?
That's apparently an eternity in our Twitter-quick, post-it-now, milk-the-brevity age. There's now a 5 Second Film Festival where, wait for it, the films are five seconds each.
We do love a beautifully clear event title.
It took us longer to type "we do love a beautifully clear event title" than, we suspect, one of the 5 Second Films lasts. Meaning the set-up, punchline, and wrap need to come in rapid fire procession. So, is there much subtlety? Maybe not. Is there a big pow and some laughs? Yes.
Michael Rousselet is one of the mad filmmaker behind the concept, and he'll be showing an hour's worth of his films at Mohawk Bend for three consecutive Tuesdays starting on April 10. (An update; Michael Rousselet will be one of the filmmakers screening during the night, and Brian Firenzi is the original thinker-upper of the 5 Second fun -- cheers!)
Have a guess how many 5 Second Films fill out an hour? Our calculator tells us the number is well into the hundreds.
The hour-long loop will show three times each evening, a couple of times with low sound (so people can chitchat and drink the official filmmaker's cocktail, which Mohawk Bend is concocting for the event). The drink is called the 5second Filmmaker. Yum.
Oh, and if you want to get down to the nitty-gritty, the films are actually closer to eight seconds each when you add in titles and end credits. The entire plot, though? Five. Seconds.
Start. Twist. Finish. Done.
So, traditional short film festivals, a question. Can you start showing shorter shorts in front of your shorts? We think there might be something here.
Follow NBCLA for the latest LA news, events and entertainment: Twitter: @NBCLA // Facebook: NBCLA
Copyright FREEL - NBC Local Media