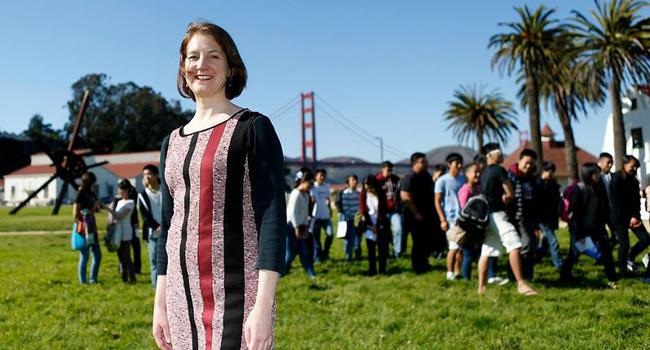 A MASSIVELY MUSICAL UNDERTAKING: If you played trombone in school, or the flute, or any instrument, you likely remember the special excitement of moving from a small and intimate trio or quartet to a larger group of 30 or 40 musicians. It was nerve-wracking, too -- would you be able to keep up with so many strings and things weighing in on a piece? -- but ultimately thrilling. Now multiply that number of musicians by, well, a bunch, and put the whole show outside, with the Golden Gate Bridge as a backdrop. Over 800 musicians are set to play, in unison, on beautiful Chrissy Field inside San Francisco's Presidio on Saturday, Oct. 26 and Sunday, Oct. 27. Composer Lisa Bielawa created the "Chrissy Broadcast" to "engage the musical communities in San Francisco." That means professional music-makers'll be out rocking their instruments, as well as those newcomers to the world of music. How often do the two get to play together and in such a large-scale setting? Not often, is the answer.
ONE WEEKEND, THREE SHOWS: A handful of hour-long shows are set for Oct. 26 and 27, with two shows on Saturday and one on Sunday. And here's what is perhaps the most interesting and certainly intriguing aspect: The public is invited to "move about" the musicians, either "by foot or bike." So it is not the traditional set-up of "over here is the audience, over here is the orchestra." There will be much melding of hearts, minds, musicians, and listeners. Ever ridden your bike by an oboist before? Yeah, it'll probably be a first.
SITE + SOUND: Ms. Bielawa's piece is very much tied to the site and the city and the unifying of communities, concepts, and ultimately people. Want to read more about this grand and moving public-forward gesture? You should, but only if you like big ideas.
Copyright FREEL - NBC Local Media