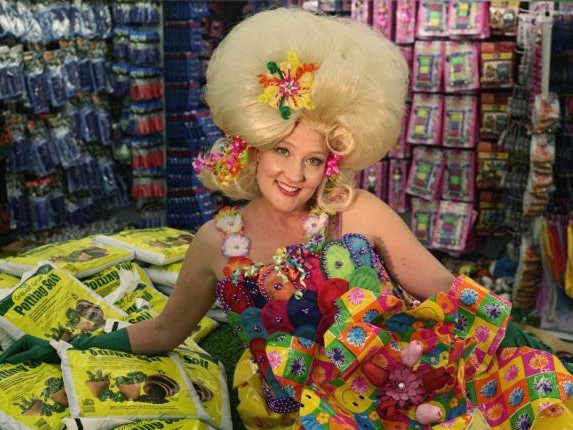 Sometimes one sees an actor walk on stage during a play and a costume-directed gasp rises from the audience. The gasped-over dress is maybe made of yards of expensive material, with real gems sewn in, and overly opulent baubles and gewgaws decorate every last bit of fabric space.
The audience knows they'll probably never own such a gown, but people partaking "Ken Roht's Same-O, A 99¢ Only Electric Ballad" may actually be able to, if not own, then replicate the outfits on stage. That's because many of the costumes worn by the 18 actors in the annual holiday pageant come from materials bought at local 99¢ stores; there are also recycled materials involved.
Genius meets pluck meets cheek meets old-fashioned sartorial skills. Wowza, is the word.
Lots of camp is promised , as is general high-spirited outlandishness. This isn't your tried-and-true seasonal production (nothing wrong with tried-and-true, of course, just saying); "Same-O" promises brightly hued boundary-pushing and candy-flavored fun.
"Ken Roht's Same-O, A 99¢ Only Electric Ballad" opens on Saturday, Dec. 4 at the Bootleg, and runs through Sunday, Dec. 19. An adult ticket is $25, or roughly 23-24 trips to a favorite, find-filled store.
Copyright FREEL - NBC Local Media