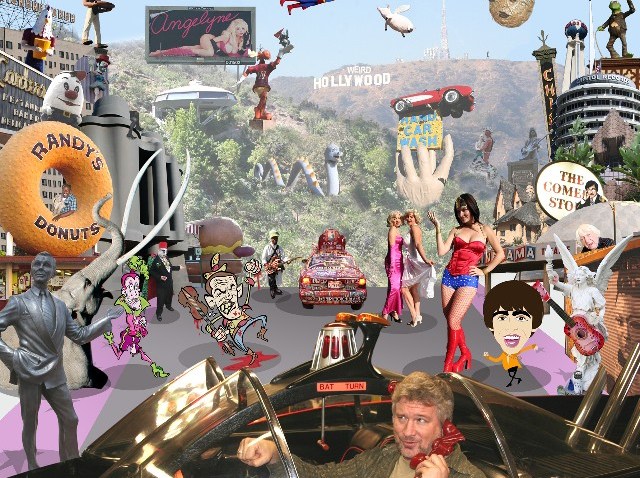 Talk to any student of the strange or offbeat or local, and you'll likely find a person who considers their knowledge of ephemeral LA to be top-notch and in no way lacking. The red gelatin at Clifton's Cafeteria? They're a connoisseur. The Circus Liquor sign? They know a friend who got married under it.
We were all puffy and braggy and have acted that role in the past. Until, that is, we picked up a copy of "Weird California" and learned much. Much. Like about the Racetrack Playa in Death Valley, where rocks purportedly move on their own.
Now there is a new book from the same series in town, and we once again expect to get schooled, in a good way. "Weird Hollywood" just made its delirious debut at Boardner's in the town that is its namesake, and a whole batch of zany locals showed, including Doo Dah Favorite Count Smokula. (Kudos to Creepy LA for the 411).
Author Joe Oesterle, who also worked on "Weird California," sings the praises of all that we love here. But know that the book extends beyond Hollywood's borders, to encompass greater Los Angeles. Santa Monica sights are within the pages; you'll also find Valley gems.
Mr. Oesterle tells us he's got a few signings coming up, including the Barnes & Noble in Huntington Beach at 2 p.m. on Sunday, Oct. 17, and the Barnes & Noble in Santa Monica on Nov. 6.
What thing that you think you know but actually don't know will "Weird Hollywood" reveal to you? What will be your Racetrack Playa? We know all about the red gelatin at Clifton's, Mr. Oesterle. We act like we own the stuff, in fact. We're ready for more local treasures.
And the full name of the book, just to be all official-like, is "Weird Hollywood: Your Travel Guide to Hollywood's Local Legends and Best Kept Secrets."
Copyright FREEL - NBC Local Media